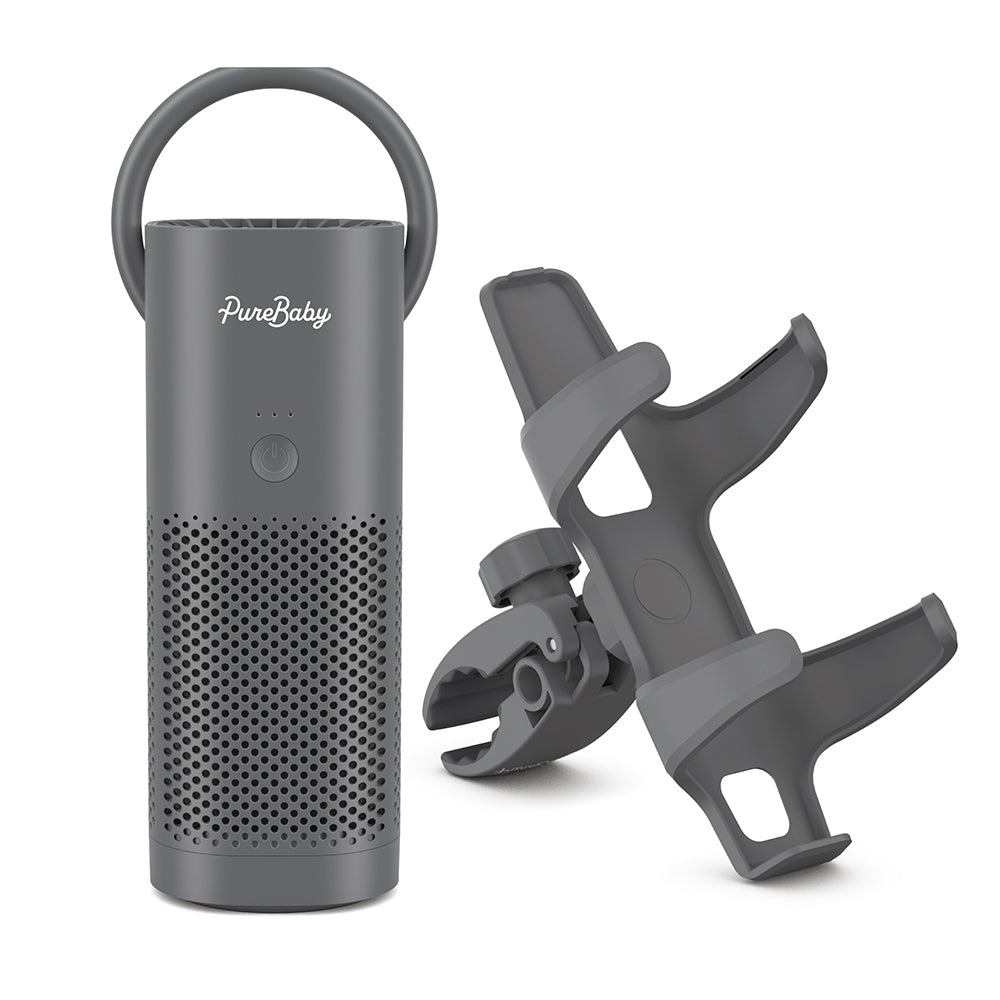 Pure Enrichment
PureBaby® On-the-Go Air Purifier
<! –– Bazaarvoice Shopify Integration Version 2.2 ––>
Bring fresh air everywhere you and your baby go with the PureBaby® On-the-Go Air Purifier from Pure Enrichment®. This baby-friendly air purifier is a newborn must-have with its multi-use clamp that attaches and adjusts the air purifier to any stroller, car seat, playpen, bassinet, crib, and more. The premium, 2-stage filtration system safely cleans up to 6ft² of air* around your baby to protect them from allergens, dust, mold spores, and other irritants in the air. The compact, hands-free cordless design features a rechargeable battery and whisper-quiet operation that makes it perfect for travel. Plus, it doubles as a stroller fan to provide a light cooling breeze for your baby. Enjoy clean air on-the-go with this cordless and portable mini air purifier.
PORTABLE AIR PURIFIER: Enjoy cleaner air in your baby's personal space with this compact, hands-free cordless air purifier. Our on-the-go air purifier cleans up to 6ft² of air* around your baby with its removable, multi-use clamp that attaches to strollers, car seats, cribs, playpens, play gyms, bouncy seats, high chairs, bassinets, and more. The versatile clamp design adjusts the air purifier 360 degrees, so you always have the perfect angle of fresh air for your baby.
TRUE HEPA FILTER:

The 2-stage filtration system e

liminates 99.97% of germs and airborne pollutants in your baby's air to help ease seasonal allergies that can irritate little nostrils.

Stage 1 is an Activated Carbon Pre-Filter that traps allergen particles, odors, and harmful gasses, while the Stage 2 True HEPA Filter eliminates dust, dander, pet hair, pollen, mold spores, and smoke in the air. Plus, the twist-off base makes filter changes quick and simple when it's time to replace.

CORDLESS & TRAVEL-FRIENDLY: The rechargeable battery lasts up to 12 hours, so you can use the air purifier without an outlet. The whisper-quiet operation ensures your baby can nap peacefully while the air in their nursery is cleaned. Detach the clamp at any time and turn the 2-in-1 handle into a stand, so you can place the air purifier on a table or high chair. Weighing less than 1 pound even with the clamp on, this baby-friendly air purifier is a lightweight and portable option for your child.
FAN & AIR PURIFIER DUO: This versatile air purifier doubles as a stroller fan with its light breeze and multiple settings to provide gentle cooling for your baby or toddler. Use the simple, one-button control to turn the unit on or off or select between 3 fan speeds for a soft, gentle breeze.

5-YEAR WARRANTY: This safe and effective stroller air purifier comes with a 2-in-1 True HEPA filter, a multi-use clamp, a USB-C charging cable, and Pure Enrichment's guaranteed 5-Year Warranty. Our customer support team provides daily quality service and peace of mind to millions worldwide all from a brand you can trust. *Coverage area based on AHAM standard of CADR (4 CFM) x 1.55.

<! –– Bazaarvoice Shopify Integration Version 2.2 ––>