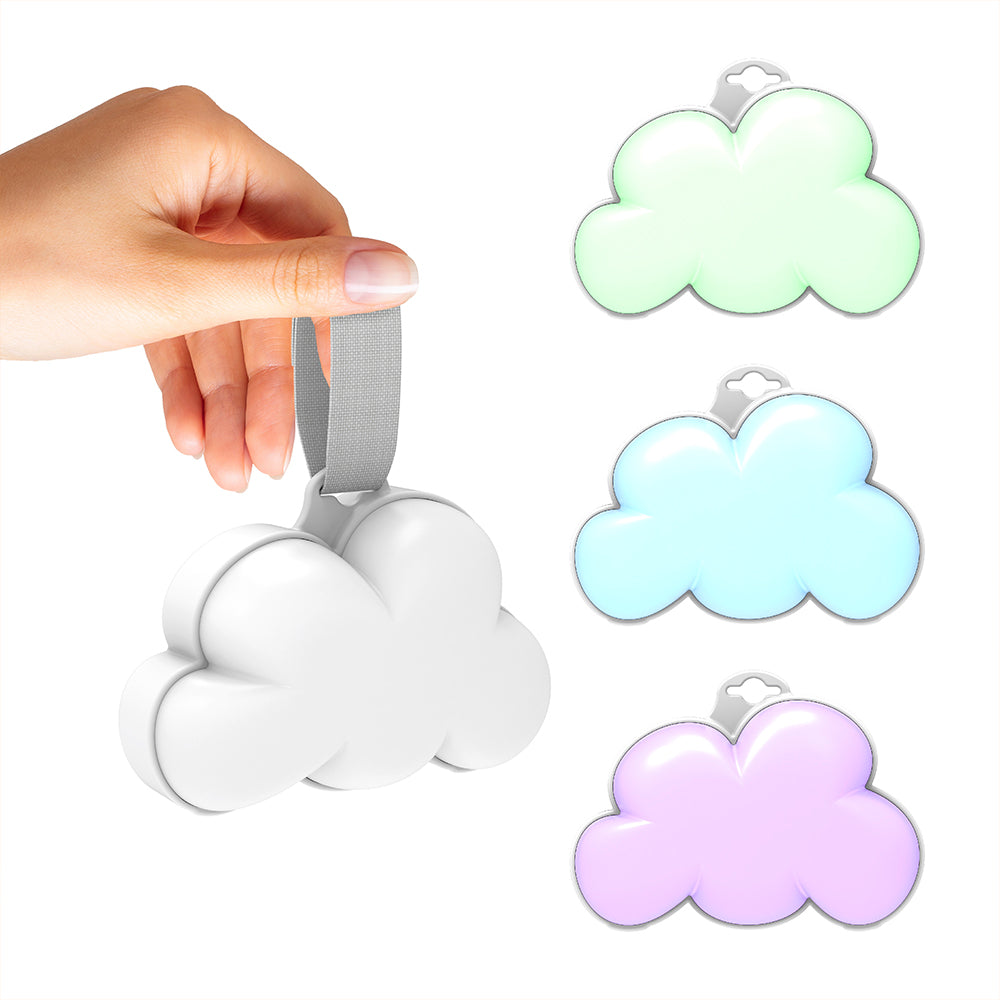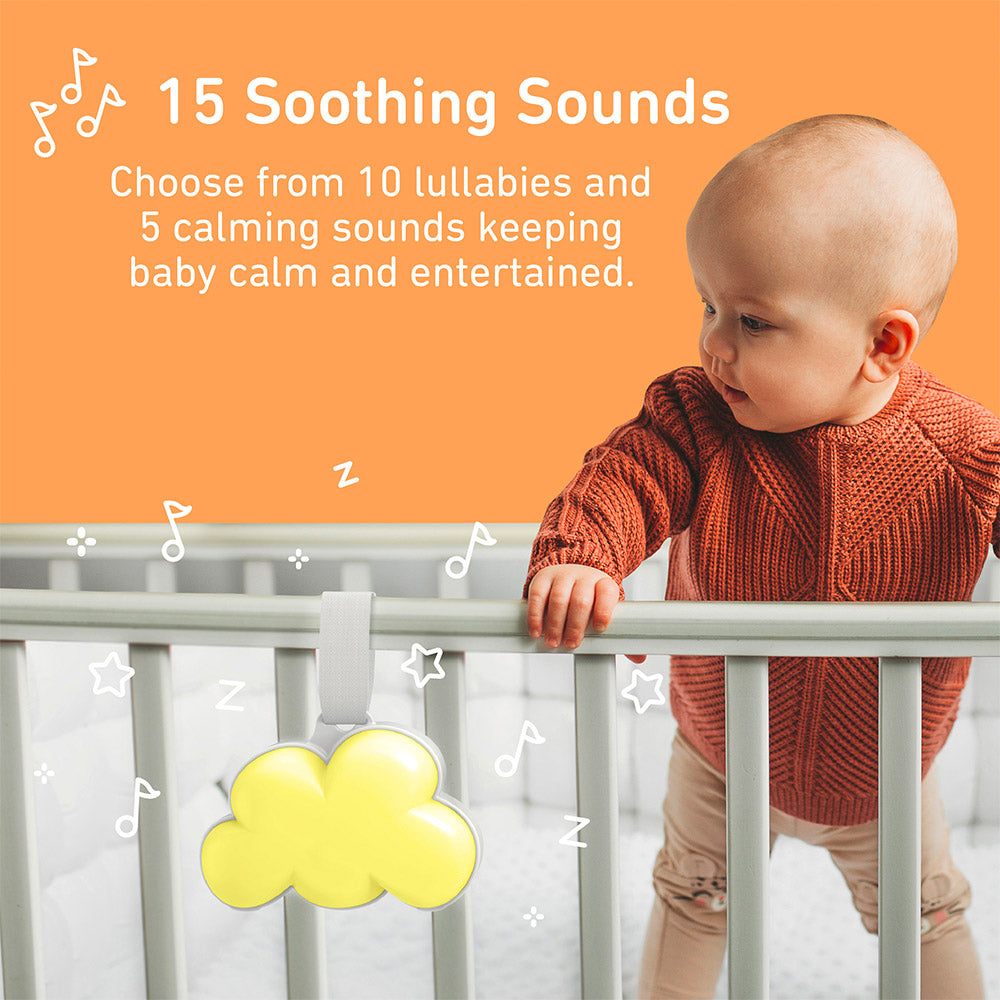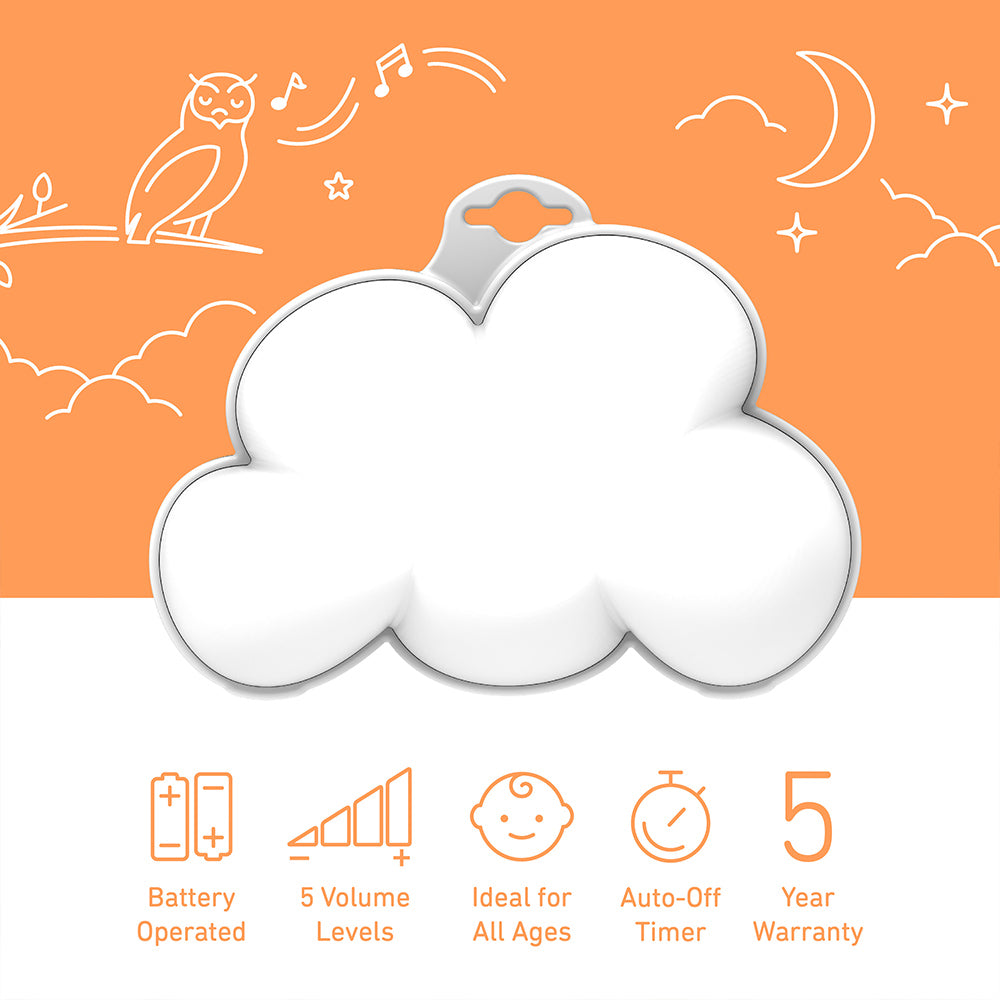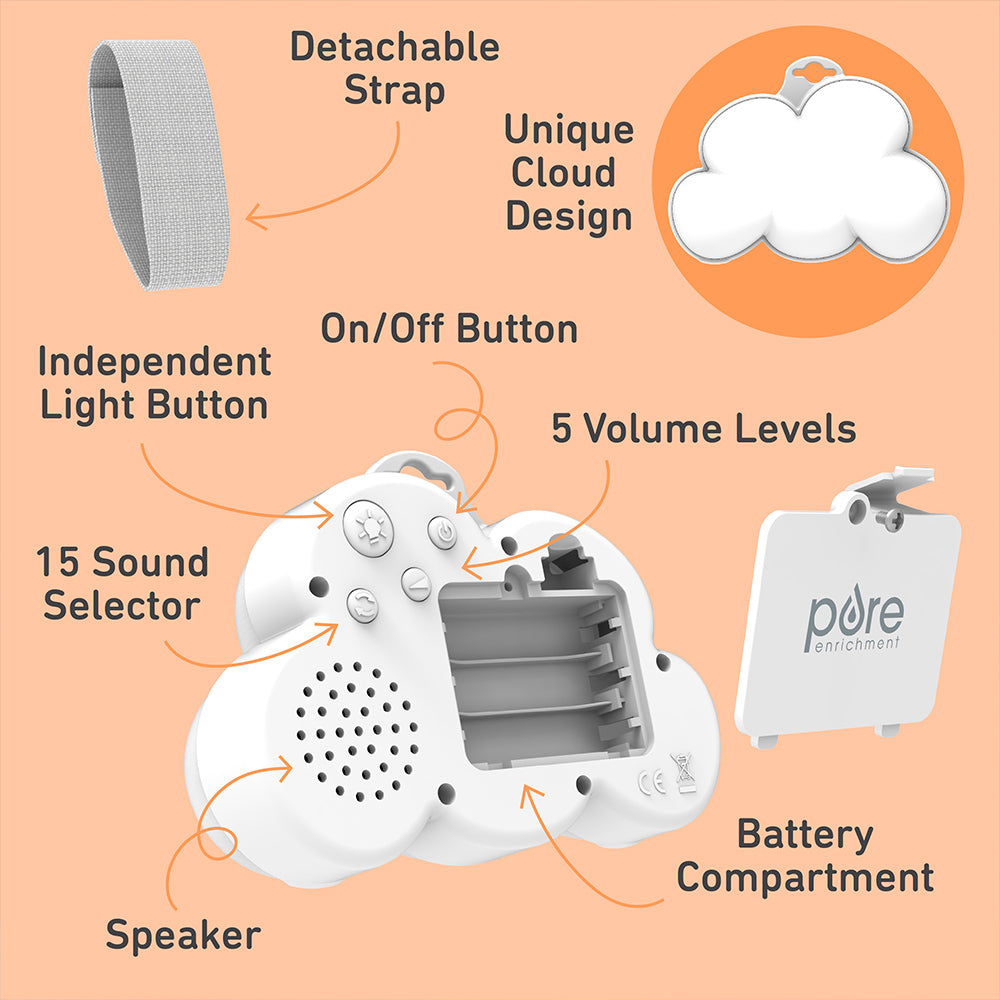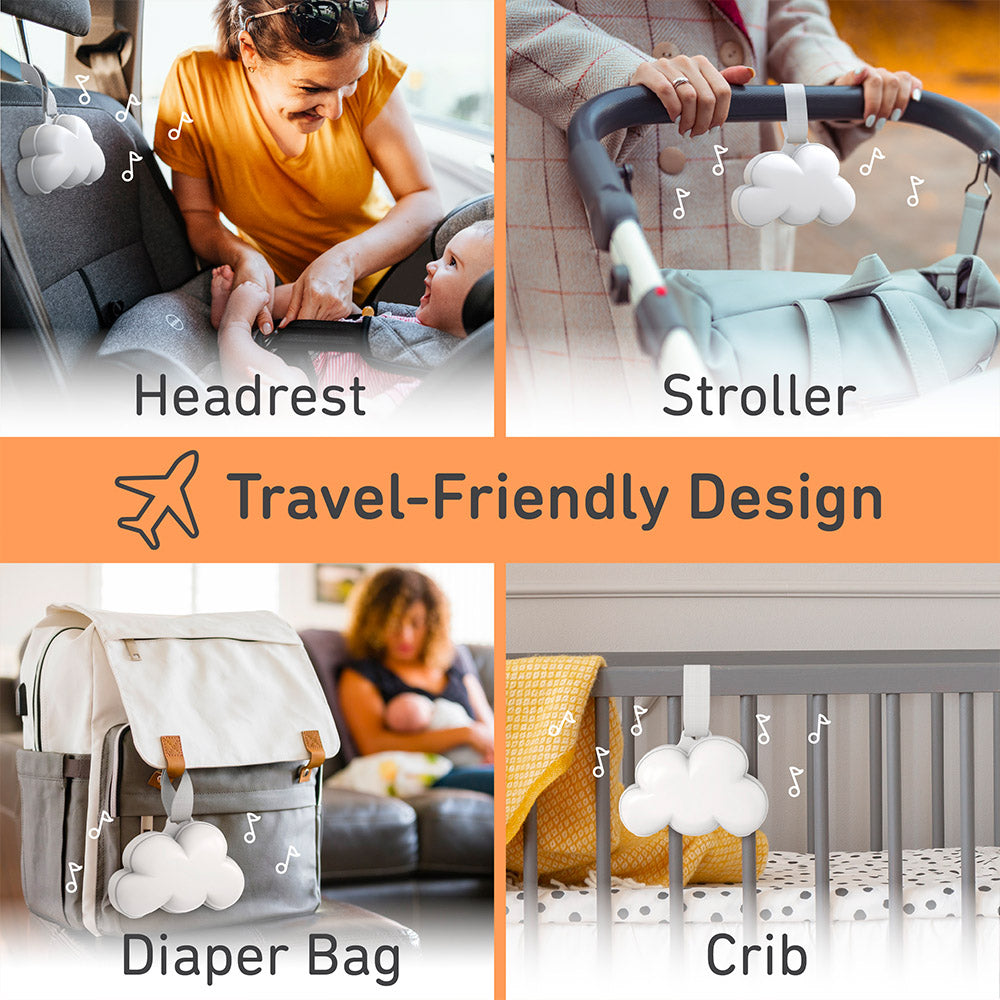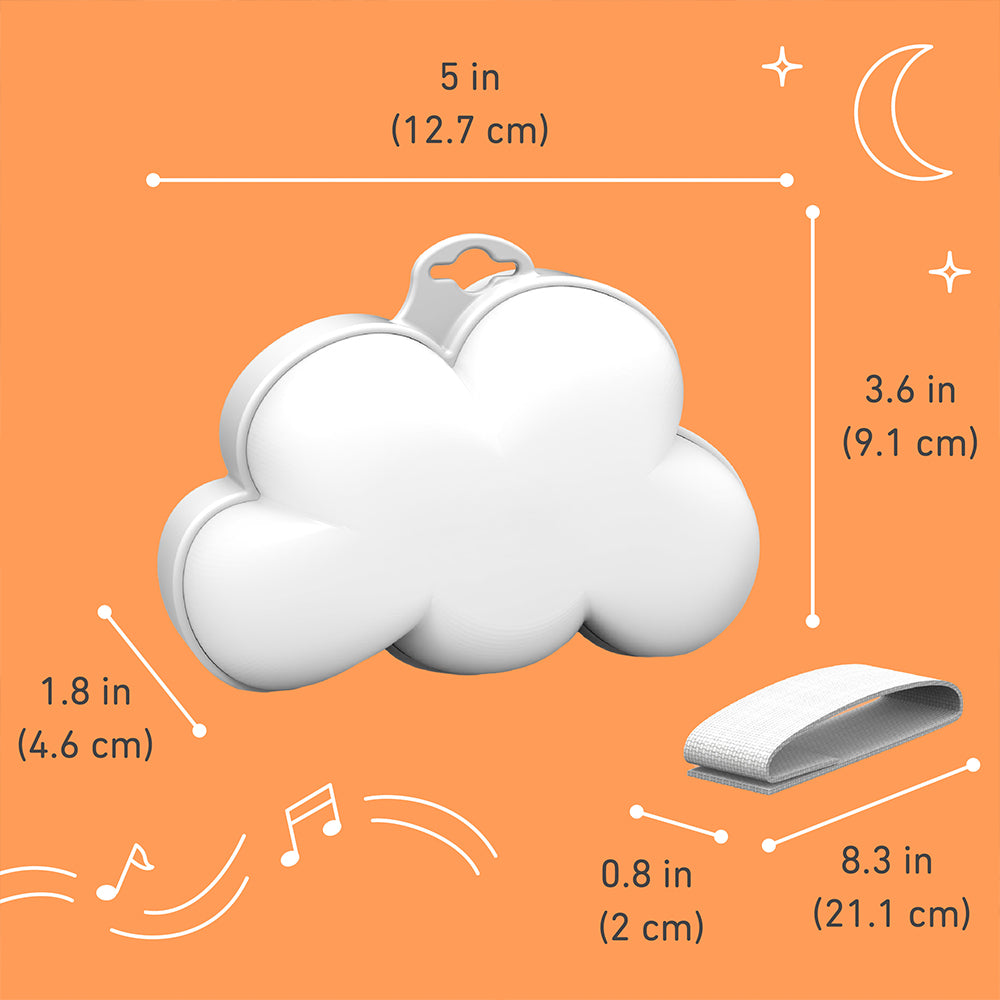 Pure Enrichment®
PureBaby® Cloud Portable Sound Machine and Night Light
<! –– Bazaarvoice Shopify Integration Version 2.2 ––>
Soothe your baby while at home and on-the-go with the calming benefits of PureBaby® Cloud Portable Sound Machine and Night Light by Pure Enrichment®. This portable sound machine and night light combo plays your choice of 15 sounds while the optional night light glows softly in 7+ changing colors. Baby Cloud can be turned off manually or after 30 minutes, the auto timer will shut off the sound and night light to promote more restful sleep and conserve battery power.
Note: Remember to use a gentle volume for your baby's listening.
15 SOOTHING SLEEP SOUNDS: Adorable baby sound machine plays 5 calming nature sounds & 10 popular lullabies to help your baby rest more peacefully - Also includes 5 volume settings to ensure a range for safe listening in any environment
7+ CHANGING COLORS: Optional light provides a soft night glow and gently changes between

7+ colors

- great as a night light, mood light, and entertainment for your baby | Powered by 3 AAA batteries (not included)
30-MINUTE AUTO-OFF TIMER: Shuts off the sound and night light to preserve batteries and eliminate the need to re-enter your baby's room
SAFE FOR NURSERY & ON-THE-GO: Short detachable strap designed with your baby's safety in mind – Attaches to most standard-size cribs, strollers, and headrests that have a railing or handlebar less than 3" thick
WHAT YOU GET: PureBaby Cloud Sound Machine and Night Light, detachable strap, user manual, and Pure Enrichment's guaranteed 5-Year Warranty. Our customer support team provides daily quality service and peace of mind to millions worldwide all from a brand you can trust.
Note: Remember to use a gentle volume for your baby's listening.
FREE SHIPPING ON ORDERS OVER $50!
...it's amazing what it can do.
I purchased the Baby Cloud for my trip to NY. The item arrived quickly and has exceeded my expectations. From the packaging to the product itself, I am so impressed with the quality. The packaging is eye-catchy but simple, and perfect in size. I love the cloud design and for such a small product it's amazing what it can do. From the multiple sleep sounds and music, to the changing lights, from the minute I hung it on my son's porta-crib it has been used nightly.
- Sarit R.
I am insanely happy with this sound machine...
I am insanely happy with this sound machine, I feel like it's met all of my needs and it's a quality machine! It's about the size of my hand which makes it easy for traveling. I love that I can hook it into my diaper bag or the baby's car seat etc. I also fasten it to the baby's mamaroo because the sound quality is better. I also really like the cloud shape. I was initially looking at animal shaped sound machines, but it's actually nice to carry a baby item around that isn't a brightly colored animal.
- Aleksija
the light catches the baby's attention...
I didn't know how good such a small white noise machine would be. Was I in for a big surprise! This has not only a heartbeat sound, but songs too. The light catches the baby's attention and keeps them occupied.The fact that it runs on batteries is great. You can throw it in the baby bag and take on trips, hang on the play pen, stroller, or car seat just makes it that much better. My daughter tells me it is one of the things she uses the most and likes the best.
- Gayla W.
just adorable.
SO CUTE! Its small and sweet and lovely. Just adorable. Giving this to my friend who just had her first baby.
- LS
love this sound machine.
Love this sound machine. I use it mainly for car rides at night to soothe my little one to sleep on the drive home from the sitter after work. Lots of different sounds and lullabies to choose from, light is bright and changes colors, volume is adjustable and the Velcro fastener allows you to hang it almost anywhere.
- Kiki R.
Product Features
Product Features
15 Soothing Sounds
Choose from 10 lullabies and 5 calming sounds to keep baby calm and entertained.
Soft Glow Night Light
Soothing night light gently cycles through 7+ colors to help your baby rest more peacefully.
Travel Friendly
Battery-operated design makes it convenient to take on-the-go and attach to the headrest, stroller, diaper bag, and crib using the detachable strap.
Year Warranty
Backed by Pure Enrichment's industry-leading, hassle-free 5-Year Warranty so your satisfaction is 100% guaranteed.
Product Specifications
Sounds
Birds, Heartbeat, Stream, Night, Ocean
Lullabies
Minuet, Brahms' Lullaby, Are You Sleeping? Baa Baa Black Sheep, Home Sweet Home, American Patrol, Mary Had a Little Lamb, Oh My Darling Clementine, London Bridge is Falling Down, Hush Little Baby
Night Light
Yes, Cycles through white, yellow, green, purple, pink, red, blue, and aqua
Power
3 AAA Batteries (not included)
Model No. / UPC
PECLOUD / 817387020022
What's in the Box
Cloud sound machine and night light, detachable strap, user manual
<! –– Bazaarvoice Shopify Integration Version 2.2 ––>