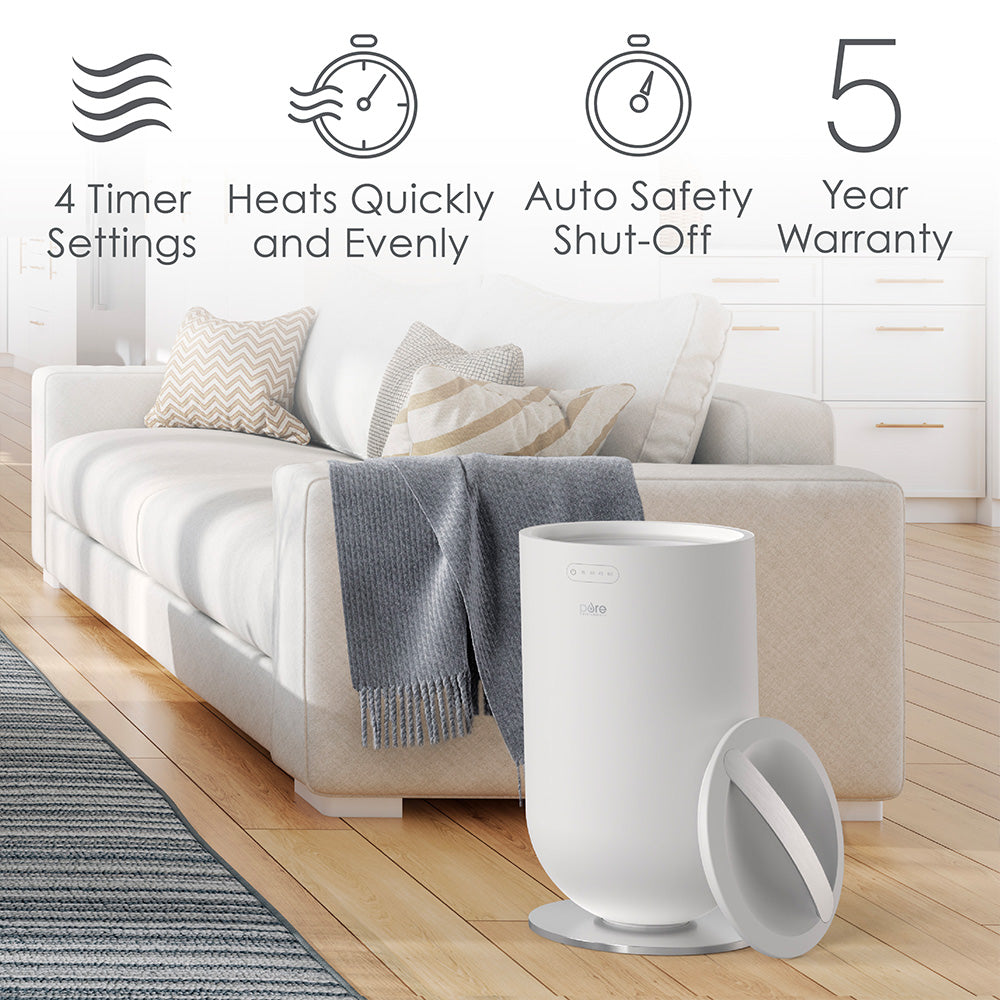 Pure Enrichment
PureBliss™ Luxury Towel Warmer
<! –– Bazaarvoice Shopify Integration Version 2.2 ––>
Wrap yourself in comfortable warmth with the PureBliss™ Luxury Towel Warmer by Pure Enrichment®. Perfect for towels, bathrobes, throw blankets, and clothing, the electric towel warmer features a spacious 20L warming bin engineered to distribute heat evenly. Whether you place it in the bedroom, bathroom, closet, or living space, our premium brushed base and handle elevate your home with a subtle sheen. As chic as it is functional, the heated towel warmer provides 4 different heat timer settings on the touch control panel to achieve a perfectly cozy warmth. From post-shower beauty rituals to family movie nights, this product was made to add more delight to your daily routines. PureBliss Luxury Towel Warmer is backed by Pure Enrichment's industry-leading 5-Year Warranty so your satisfaction is 100% guaranteed.
EXTRA-LARGE CAPACITY: Indulge in cozy relaxation with a spacious 20-liter luxury towel warmer that can hold towels, bathrobes, throw blankets, or clothing, with extra room for smaller items. Designed for warming everyday cotton items, roll or loosely add a variety of items to elevate everyday routines. For an optimal fit, try two extra-large bath towels measuring 40" x 70", three regular bath towels measuring 30" x 56", or a large throw blanket measuring 50" x 60". 
4 HEAT TIMER SETTINGS: Evenly heat towels & clothing for 15, 30, 45, or 60 minutes with the modern and intuitive touch button controls. The heated towel warmer gives an audible beep and automatically shuts off after the warming cycle is complete for added safety.
SLEEK & MODERN DESIGN: Elevate your at-home routines to spa-like experiences with this elegant luxury towel warmer. Designed with modern aesthetics in mind, this space-saving warmer features metallic-like gold or silver brushed accents to compliment any space in your home. 
PERFECT FOR EVERY DAY: Make every day more luxurious with a hot towel warmer that can be used in a variety of spaces and in a variety of ways. Enjoy toasty towels after a refreshing bath or shower, cozy up with a warm blanket when staying in for the night, or slip into comfy pajamas and socks when relaxing in the bedroom during a chilly evening. Plus, it doesn't have to end there – this versatile towel warmer could be used in hotels, salons, wellness centers, spas, yoga studios, and more.
5-YEAR WARRANTY: The PureBliss™ Luxury Towel Warmer comes with the detachable lid, user manual, and Pure Enrichment's guaranteed 5-Year Warranty. Our customer support team provides quality service and peace of mind to millions worldwide all from a brand you can trust.
<! –– Bazaarvoice Shopify Integration Version 2.2 ––>