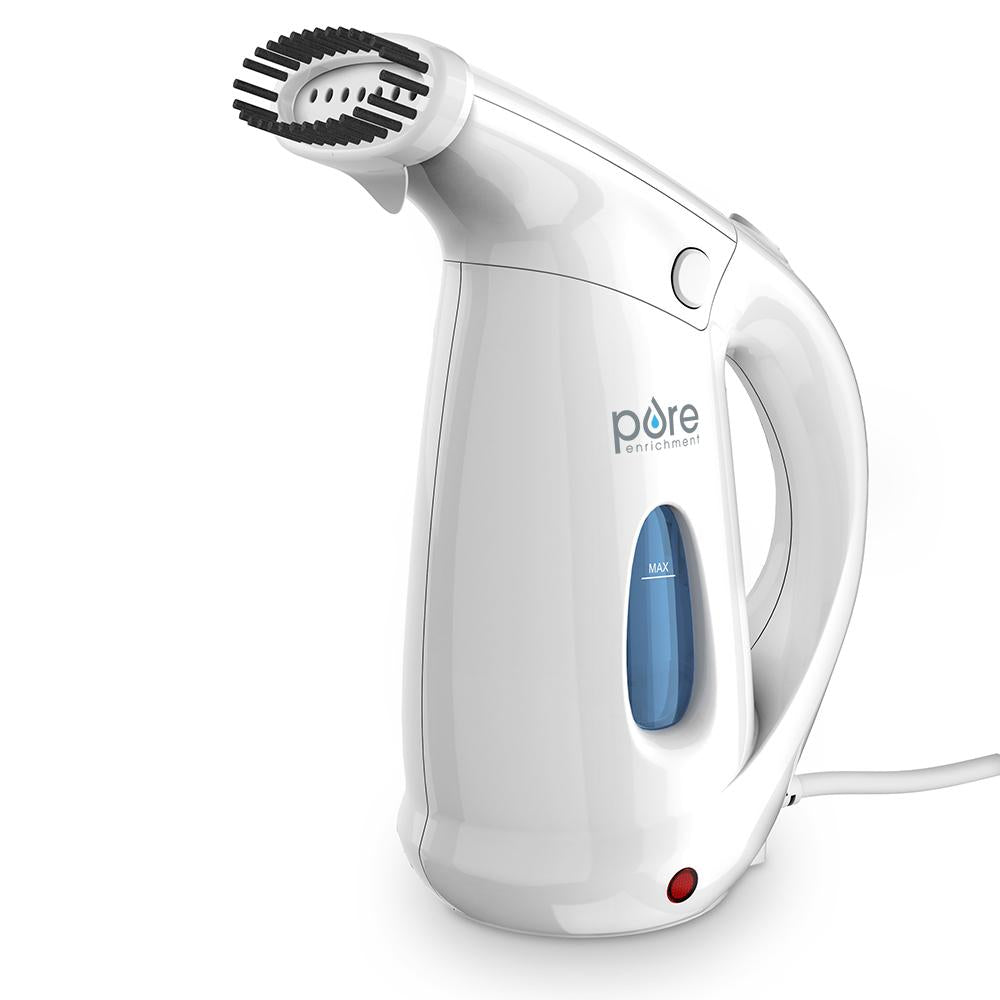 Pure Enrichment®
PureSteam™ Deluxe Handheld Garment Steamer
<! –– Bazaarvoice Shopify Integration Version 2.2 ––>
PureSteam Deluxe makes it easy to get your clothes crisp and wrinkle-free for work, play, or special occasions. The unit's temperature-controlled steam and two speed settings is powerful enough to tackle tough fabrics like linen, yet safe enough to use on delicate nylon blends. Thanks to its lightweight and compact design, PureSteam Deluxe is the perfect travel companion for business trips or vacation. Use at home or on the road to dewrinkle all types of fabrics including clothing, coats, curtains and drapes, table linens, and upholstered furniture.
It has an automatic safety feature that turns the steamer off to prevent overheating. PureSteam Deluxe comes with a fabric brush attachment for garment grooming as well as a convenient storage bag to protect the steamer during travel or long-term storage.
PureSteam Deluxe is backed by Pure Enrichment's industry-leading 5-Year Warranty so your satisfaction is 100% guaranteed.
FREE SHIPPING ON ORDERS OVER $50!
love this steamer!
Love this steamer! I bought it because of its great reviews and it is wonderful. Drapes which were super wrinkled just smoothed out like a dream using this steamer! And cotton tops which wrinkle in the dryer smooth out beautifully too. Wish I had bought it years ago!!
- Ron
easy to use
The PureSteam Deluxe a solid 5/5. It works wonderfully and is an essential household and travel item!
- Mike L
great product! compact for travelers!
Very portable on my travel. It's been more than 6 months since I bought this item and it still works great!
- Sett
love it!
I love the PureSteam Deluxe Handheld Garment Steamer! I have wanted a steamer for a while and finally decided to try one. So glad I did. This is perfect. I steamed some upholstery and a few blouses and it worked wonderfully. Easy to use and love that it comes with a carry bag for travel. Great product.
- Mawilson
perfect steamer!
This lightweight steamer works great! I bought it after my last garment steamer broke. It was the kind on wheels with a built in hanger - it took up a lot of space. This one works just as well, if not better and stores easily on the laundry room shelf!
- L. M.
Product Features
Product Features
Fast-Heating
Ample 160ml water tank is ready to steam in 2 minutes and provides up to 10 minutes of continuous steam.
Powerful Steam Nozzle
Temperature-controlled steam is powerful enough to remove tough wrinkles in tough fabrics like linen, yet safe enough to use on delicate nylon blends.
Certified Safe
The ETL Mark is proof of this product's compliance with North American safety standards.
Year Warranty
Backed by Pure Enrichment's industry-leading, hassle-free 5-Year Warranty so your satisfaction is 100% guaranteed.
Product Specifications
Dimensions & Weight
9.25″ x 7″ x 4″ / 1.5 lbs (.7 kg)
Model No. / UPC
PEGARSTM / 853975005699
What's in the Box
Garment Steamer, Fabric Brush Attachment, Storage Bag
Water Tank Capacity
5.4 fl oz (160 ml)
<! –– Bazaarvoice Shopify Integration Version 2.2 ––>