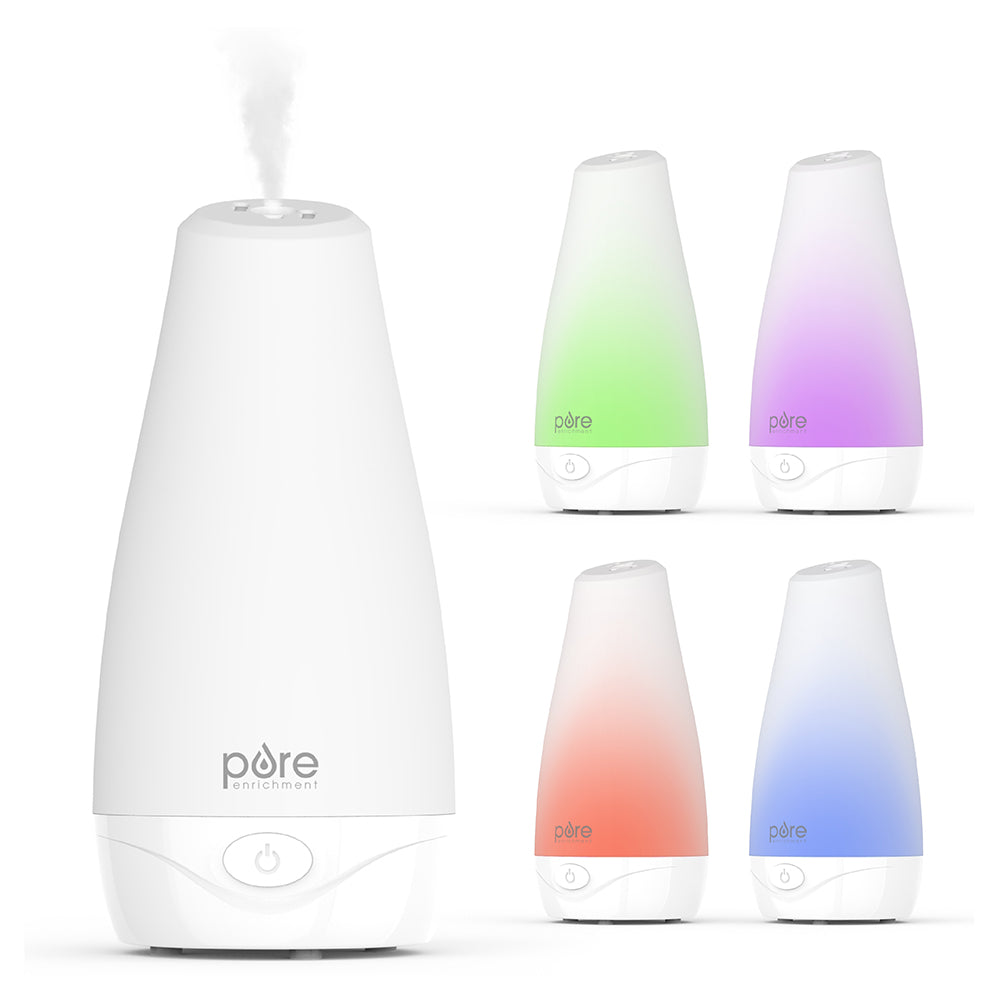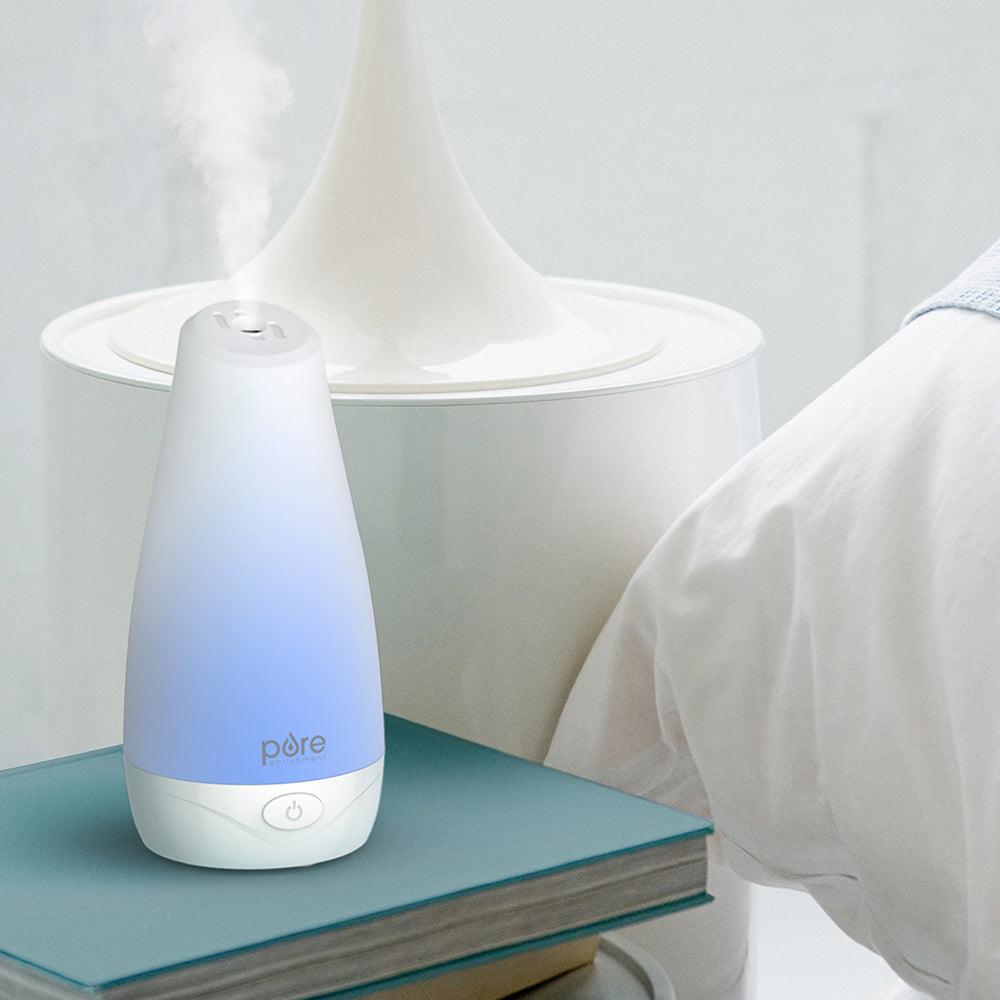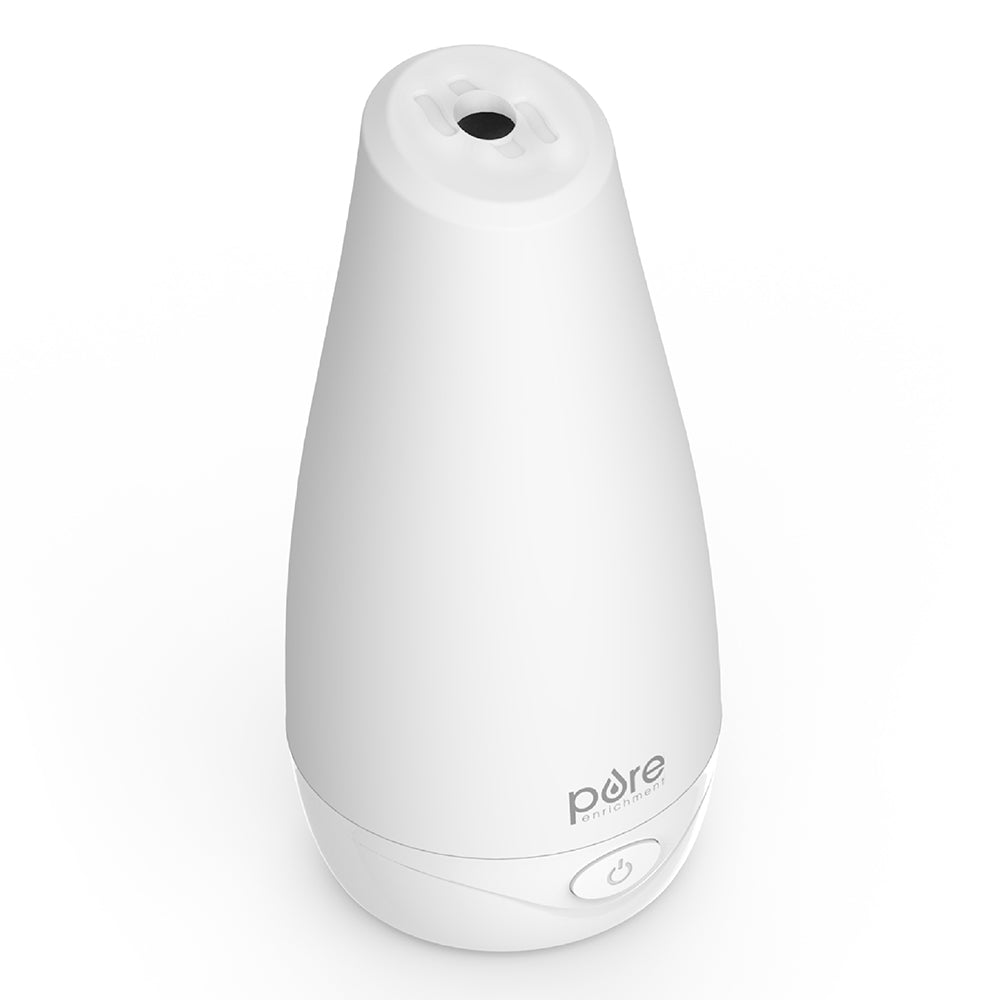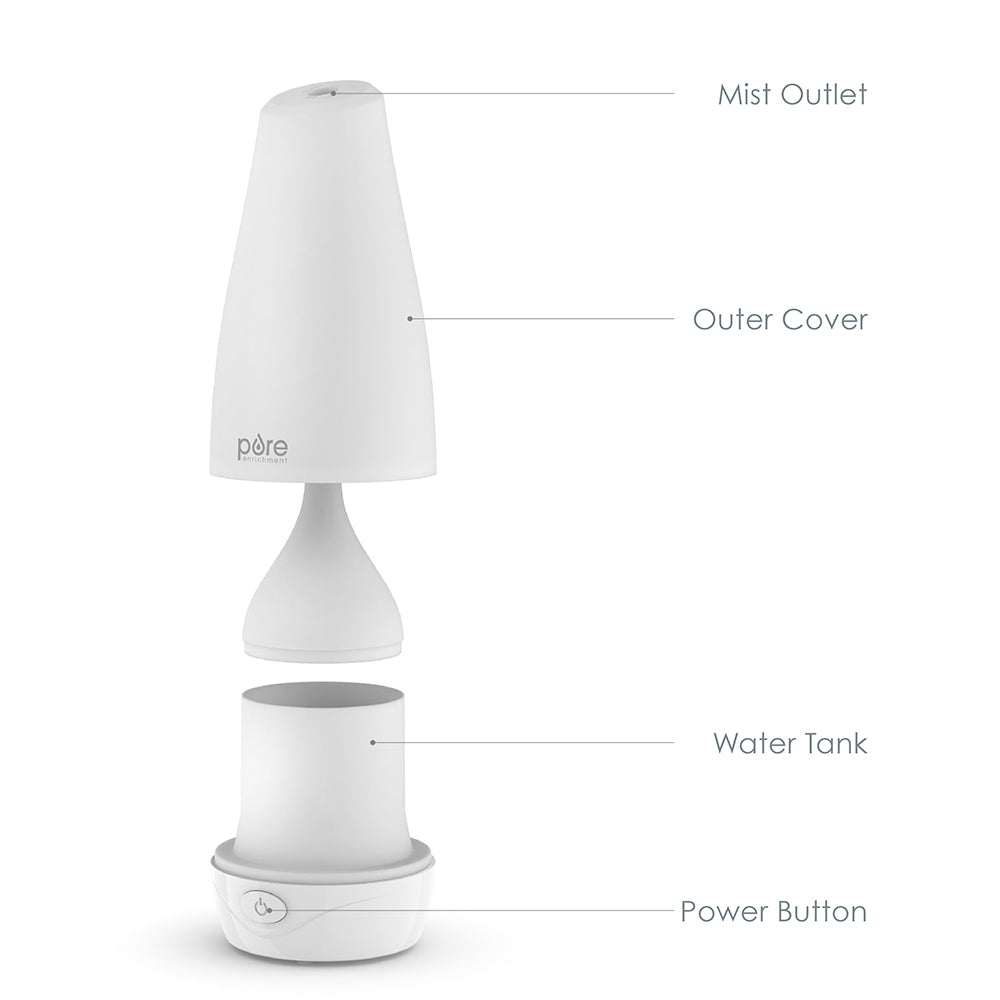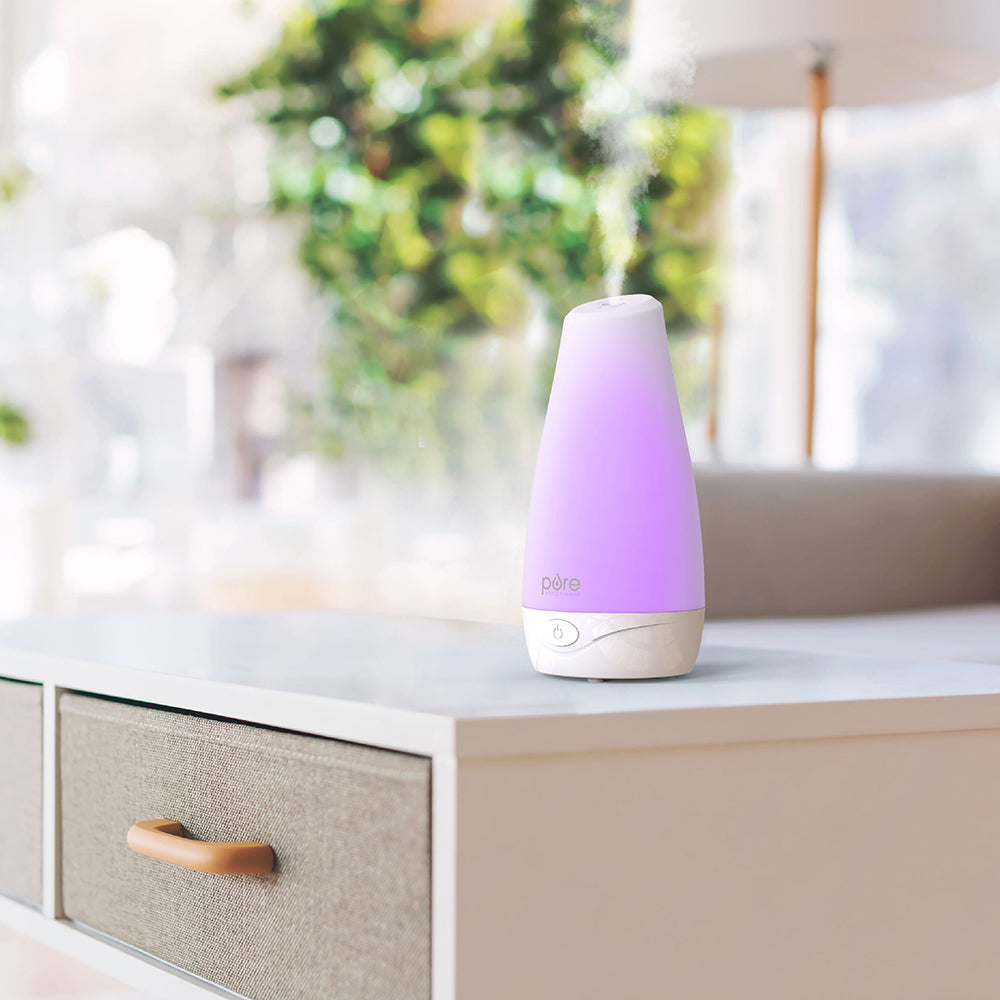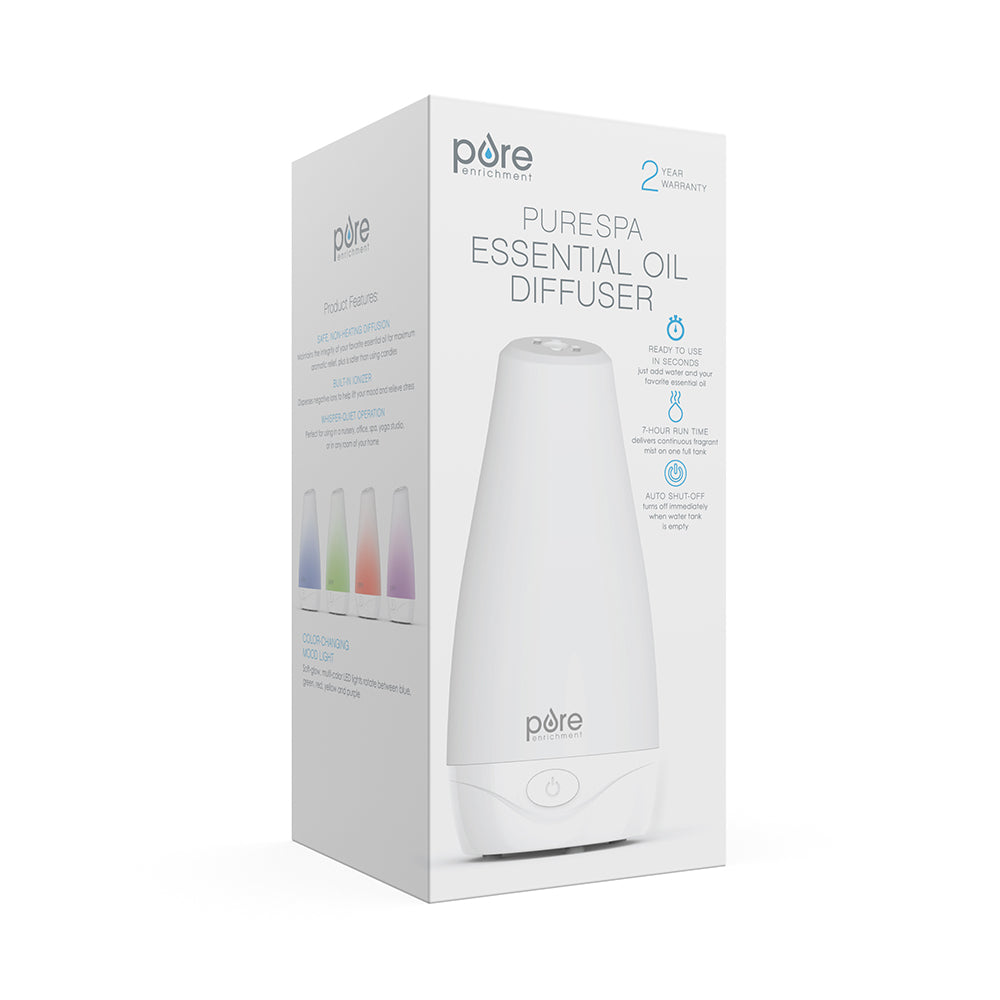 Pure Enrichment®
PureSpa™ Essential Oil Diffuser
<! –– Bazaarvoice Shopify Integration Version 2.2 ––>
Bring the all-natural healing power of aromatherapy to your home or office with the PureSpa™ Essential Oil Diffuser from Pure Enrichment. With a stylish design that complements any decor, PureSpa also doubles as a cool-mist humidifier. Use with or without your favorite 100% pure essential oils to moisturize dry air all year long. When oils are used, PureSpa's safe, non-heating diffusion maintains the integrity of your essential oils so you can enjoy their full aromatherapeutic benefits. With PureSpa's simple three-touch power button you have the option to turn on the diffuser by itself, turn on the diffuser with color-changing night light, or turn off both. 
Relaxing Aromatherapy:

Diffuses 100% all-natural essential oils with powerful aroma coverage that lasts up to 7 hours before the auto shut-off safely turns off the unit. 

Great for Large Bedrooms:

Refreshes and moisturizes the air in rooms up to 250 square feet to create a more comfortable atmosphere for people suffering from a cold, nasal congestion, allergies, asthma, and more.

Easy 1-Touch Controls:

Easy-to-use 1-button controls let you choose between using the diffuser, using the mood lights, or using both. 

Natural Mood Booster:

Naturally boost your mood with our stylish aromatherapy diffuser, which not only looks great, but makes you feel great too. 
The PureSpa™ Essential Oil Diffuser is backed by Pure Enrichment's industry-leading 2-Year Warranty, so your satisfaction is always guaranteed.

FREE SHIPPING ON ORDERS OVER $50!
I highly recommend it.
I have tried several essential oil diffusers for my home, and this one is by far the best one. I love its ability to change colors. It emits enough of a mist to make the room smell good, but it is not overpowering in any way. The instructions are easy to follow and the cup to pour the water into it is very handy and precise. I have used it with several different essential oils and it never clogs the machine up, like some of mine have in the past. It is clean and easy to maneuver. I highly recommend it.
- Hinton
it is very quiet.
This product is awesome! The night light is great, but can be used without the light. It is very quiet. I had added vanilla scent to mine and just love the results. Plus I noticed it turns itself off when the water runs out. I use distilled water and let it dry between uses.
- Gail
worth the price!
I feel like I finally found an aromatherapy diffuser that's practically perfect! I love the light options, and the amount of mist that comes out is just right. The scent diffuses really well and I love the shape of it. It's calming and absolutely silent and it picks up the scent more than I was expecting it would (in a good way). I just hope it lasts - I registered it for free with their 2 year warranty. Worth the price! Very happy.
- Lauren M.
it is a nice very fine mist.
I am thrilled with this unit. I am getting approximately 5 hours of vapor filling the unit to the max line. It is a nice very fine mist. I do not use it with the lights but they do work as I tested them. The light purple is a very nice color if I decide to use. Thank you for a great product to use with all natural oils for a difference in children's lives.
- Richard E. B.
I'm incredibly pleased with this purchase.
I love this diffuser. It's compact but it covers a good area. Our bedroom is 20x 15 and you can easily smell the fragrance down the hall, gently wafting by, but not overpowering. It's quiet, efficient, and diffuses fragrance perfectly! Turns of automatically yet runs a few hours (holds 100ml). My husband, who is the biggest critic, absolutely loves it. I'm incredibly pleased with this purchase. The fact that it's perfect for travel as it is light weight is an added bonus. No more stuffy hotel rooms :)
- Deborah G.
Product Features
Product Features
All-Natural Air Freshener
Just add 100ml of water and 3-5 drops of your favorite essential oils for powerful aroma coverage that lasts up to 7 hours.
Soothing Mood Light
Optional color-changing LED lighting creates a relaxing ambiance and soft night glow while lifting your mood and relieving stress.
Whisper-Quiet Operation
Gentle, whisper-like ultrasonic operation is perfect for use in a nursery, office, spa, yoga studio, or in any room of your home.
Year Warranty
Backed by Pure Enrichment's industry-leading, hassle-free 2-Year Warranty so your satisfaction is 100% guaranteed.
Product Specifications
Size
5.2" (L) x 4.6" (W) x 8.2" (H)
LED Lights
Multi-color changing lights (blue, green, red, yellow, purple)
Power
100-240V, 50/60Hz, 12W
Model No. / UPC
PEPURSPA / 853975005200
What's In the Box
PureSpa essential oil diffuser, AC adapter, water measuring cup
<! –– Bazaarvoice Shopify Integration Version 2.2 ––>