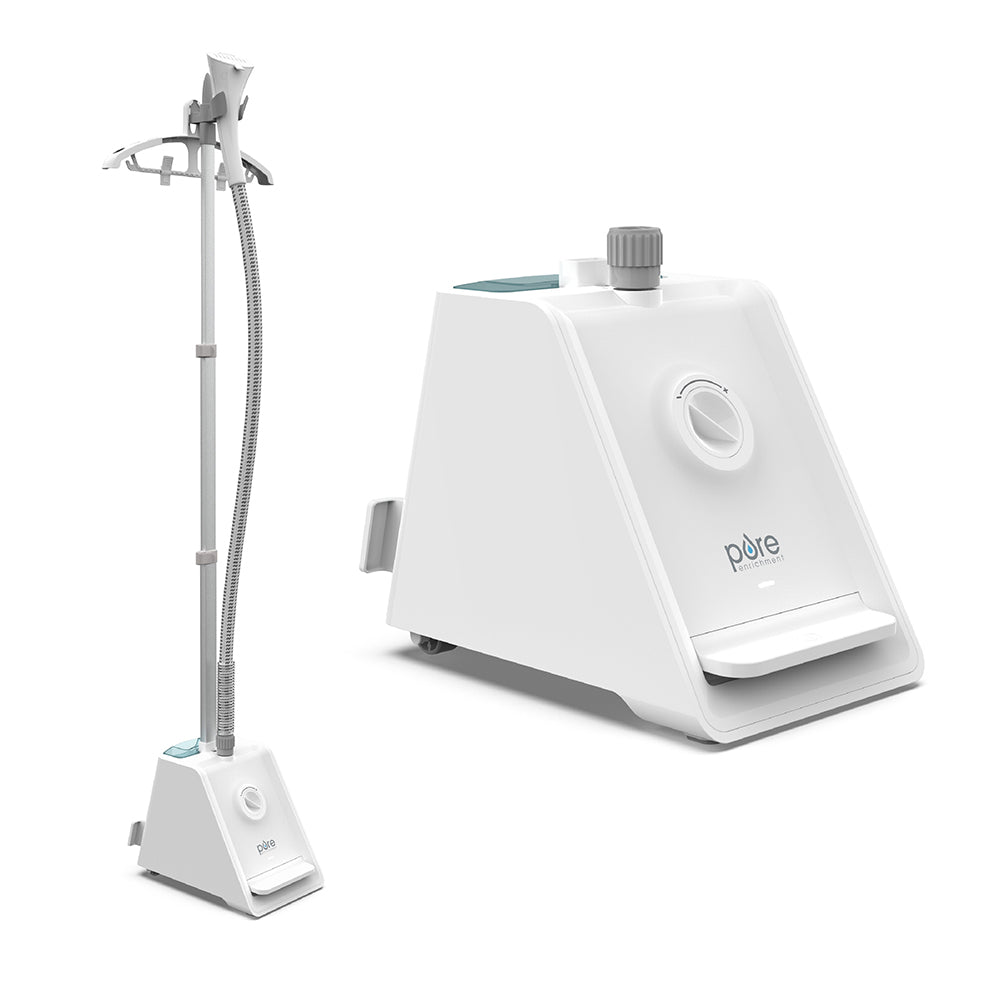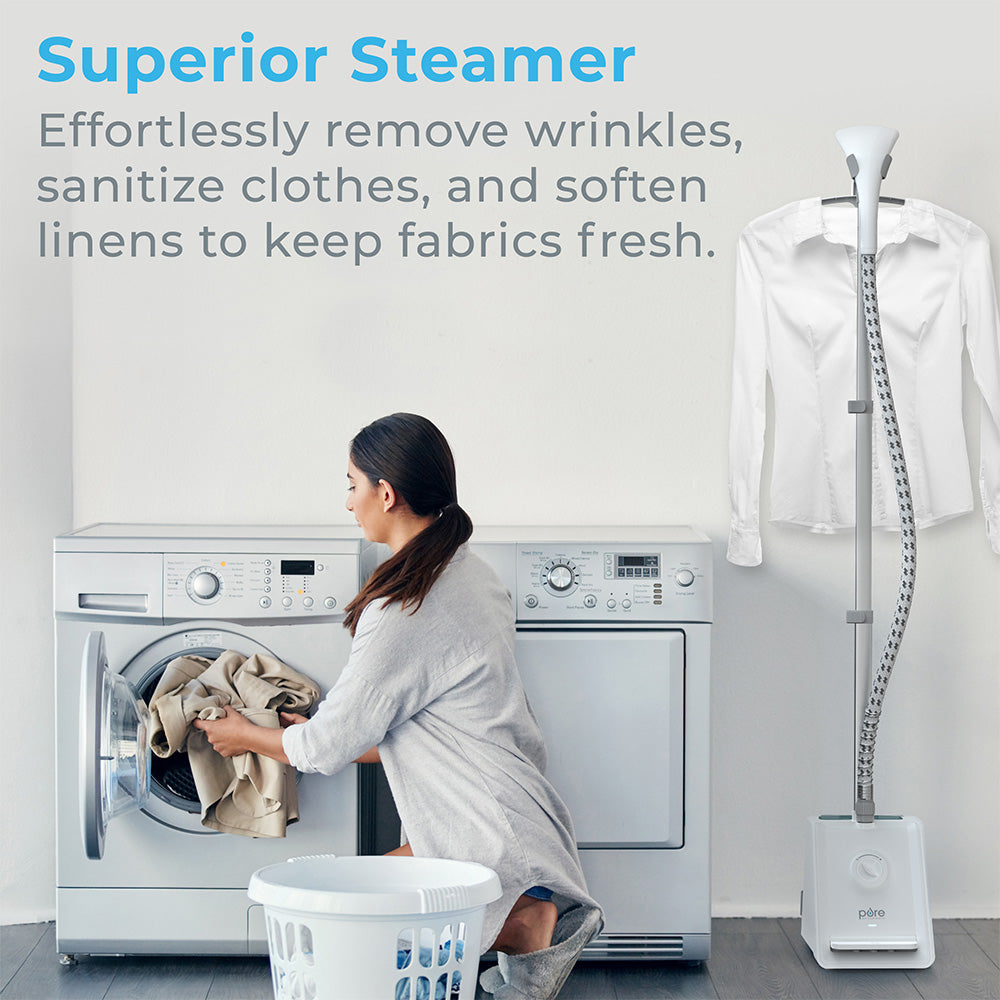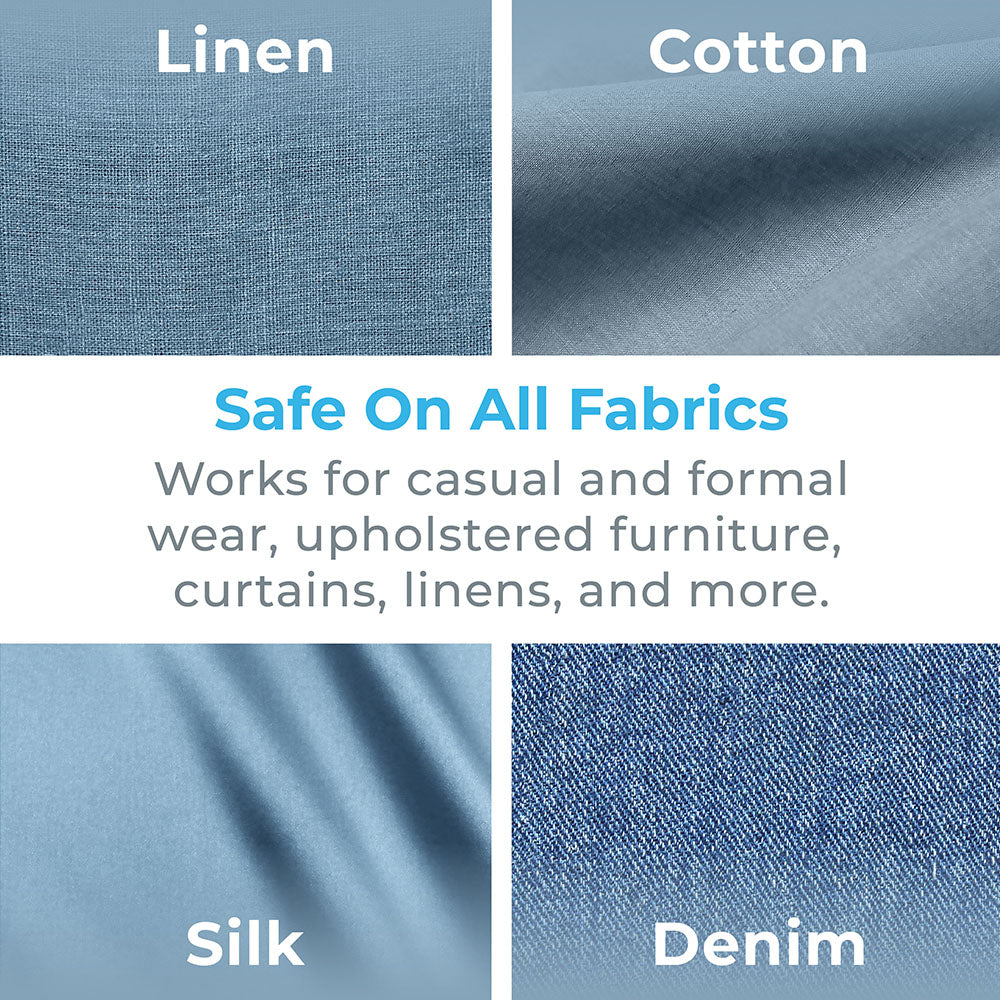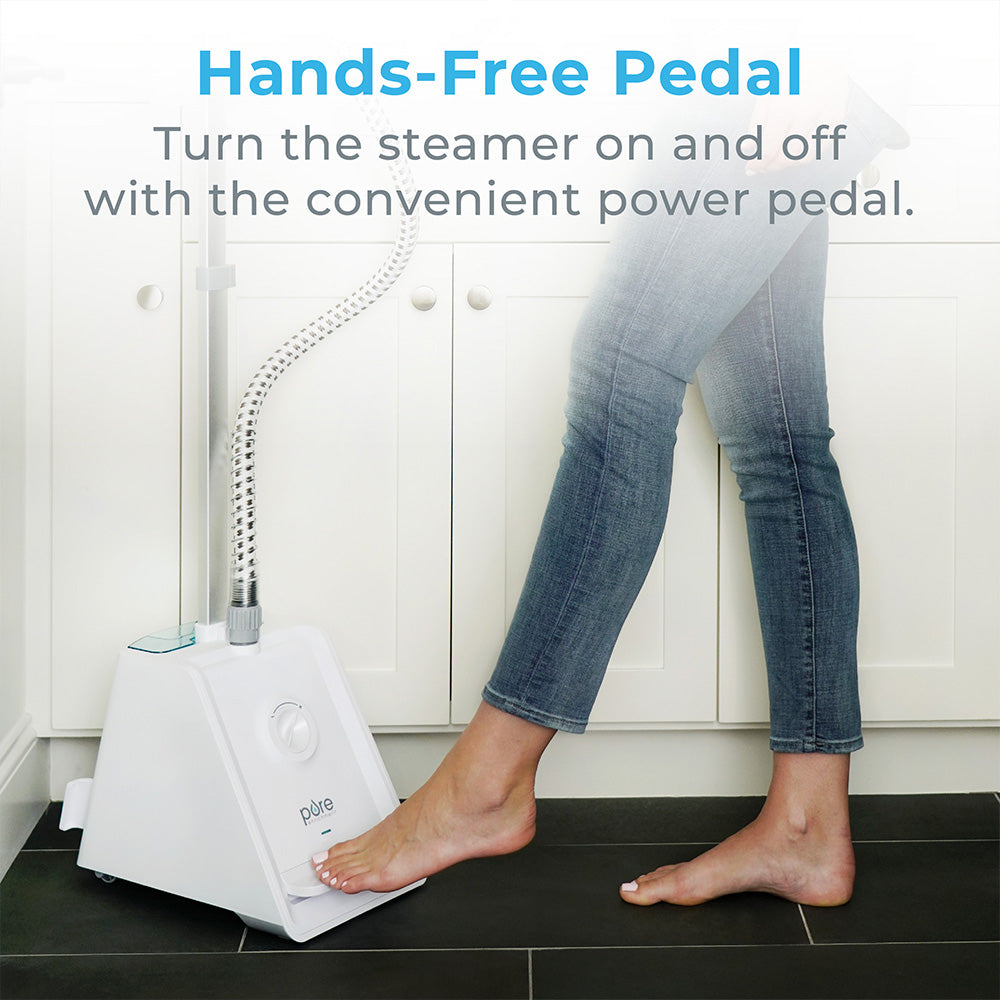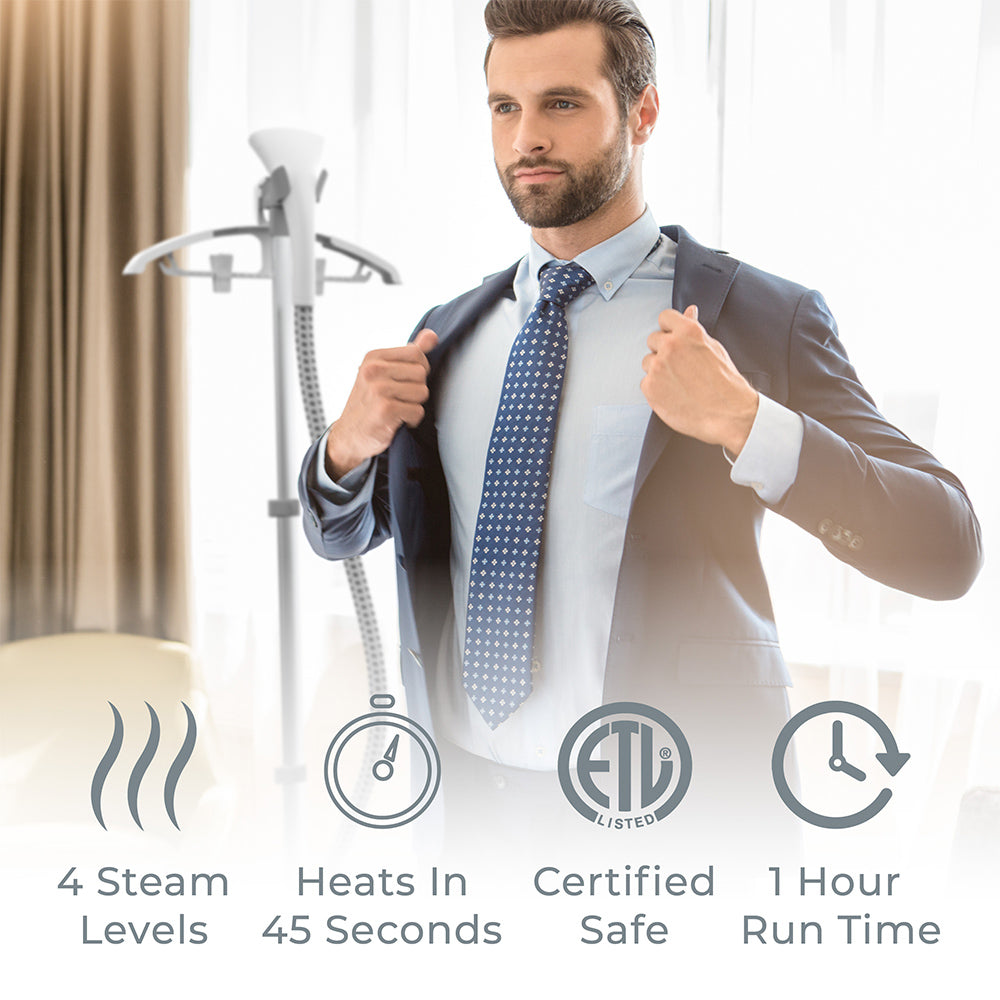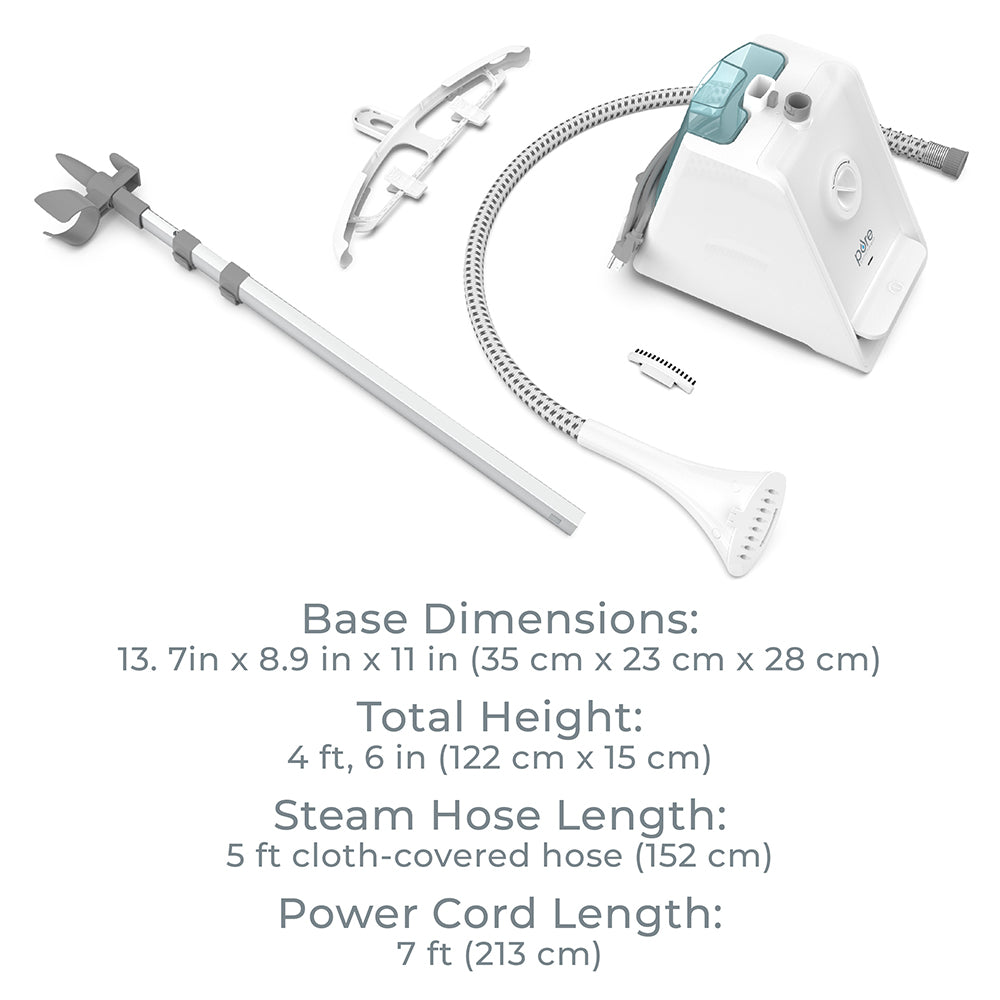 Pure Enrichment®
PureSteam™ Pro Upright Garment Steamer
<! –– Bazaarvoice Shopify Integration Version 2.2 ––>
Start your day wrinkle-free with PureSteam™ Pro from Pure Enrichment®. With thermostat-controlled steam that automatically maintains a constant temperature at each of the four levels, this upright garment steamer gets you out the door and ready to make a lasting first impression. Designed with a convenient power pedal, PureSteam™ Pro offers a more comfortable steaming experience that frees your hand from manually pumping steam. Simply fill the ample 2-liter water tank and enjoy a full hour of continuous steam for all fabrics. Use at home or on the road to de-wrinkle clothing, coats, curtains/drapes, table linens, upholstered furniture, and more.
STANDING GARMENT STEAMER: This superior steamer heats in only 45 seconds to deliver up to 1500 watts of safe, thermostat-controlled steaming power reaching 208℉. Four steaming levels tackle all kinds of stubborn wrinkles, while the 2L tank allows for a full hour of continuous steaming.
DE-WRINKLE & SANITIZE FABRICS: Refresh, soften, and remove wrinkles on a wide range of fabrics, including clothing, delicates, bedding, curtains, upholstered furniture and more. The steam is gentle enough to work on different types of fabric, such as silk, cotton, linen, and denim.
PORTABLE, PEDAL-POWERED STEAMING: There's no need to hold a cumbersome steam button or manually pump the nozzle for steam output. Use the pedal at the base to easily turn the steamer on and off. The adjustable pole allows you to change the height, while the wheels on the bottom let you take this standing steamer with you anywhere.
EASY-FILL TANK & CONVENIENT HANGER: The transparent water tank makes it easy to see when it's time to refill. Simply detach to fill up the tank again. The additional garment hanger and f

abric brush attachments for an easier and more effective steaming experience.

WHAT YOU GET: Upright garment steamer, garment hanger, fabric brush, ETL-approved power adapter, industry-leading 5 Year Warranty, caring customer support 7 days a week, and the peace of mind that comes from a trusted brand with millions of customers worldwide.
FREE SHIPPING ON ORDERS OVER $50!
all I can say is WOW!
All I can say is WOW! This garment steamer makes removing wrinkles so easy. It has 4 steam levels so it can be adjusted for various materials and needs. I find it to be so much easier than ironing. It takes only a few minutes to heat up. I will hang several pieces of clothing up on a rack in my laundry room and have them steamed and wrinkle free in less time than I would struggle ironing just one pair of pants. Of course if you want creases in your pants you cannot accomplish that with a steamer. I also love that you can freshen up clothes that haven't been out of the closet for awhile. I definitely recommend this product to anyone who hates ironing like I do.
- Dmariet16
it does a really good job with little effort.
After I opened the box on this one, I knew that it was a quality product, from the steam hose to the wand, you can tell it was built well. I filled it with distilled water, as recommended, and that made a huge difference ...The steamer heated up very quickly. I was steaming my clothes and removing wrinkles within 1 minute. It does a really good job with little effort. The adjustable temperature gauge helps a great deal when you're steaming different types of fabric. The retractable pole is great for storing this thing in tight areas. The overall time to steam a garment has not only improved over ironing, but there isn't any screeching ironing board to put away. This is an excellent steamer and I highly recommend it.
- cnacca83
this is a great steamer...
This steamer works very well. It is easy to assemble and use. I love that it has a foot pedal to control it. It takes a little over 1 minute to heat up. Another great feature is it has 4 different steam levels, humidity function, iron short sleeve, iron shirts, and iron suits. It's size makes it very easy to store without taking up a lot of space. It also comes with a hanger to make it even easier to steam your clothes. This is a great steamer and I'm very happy with it.
- MrsD.
...already paid for itself in dry cleaning bills.
This is a handy device. I wear wool pants to work and now I don't have to have them pressed at the cleaners as often. This thing is easy to put together and generates a good steam level that eliminates wrinkles from my pants and makes them look fresh and clean. This device has already paid for itself in dry cleaning bills. It's also compact and easy to store.
- Patrick
...my wardrobe has never looked better!
We hate ironing! This unit has put our iron and ironing board on permanent retirement. It is very well made, easy to assemble and because it is very compact, fits in the corner of our laundry room out of the way. The foot control for the steam allows you to have both hands free speeding up the process. I never could iron very good, but with the Pure Steam Pro my wardrobe has never looked better!
- Louis
Product Features
Product Features
4 Steam Levels
With 4 steam levels, the simple lever allows hands-free control of turning the unit on and off while the built-in thermostat prevents the steamer from ever overheating.
Heats in Seconds
Heats in 45 seconds for quick pedal-powered steaming - there's no need to hold a cumbersome steam button or manually pump the nozzle for steam output.
Certified Safe
The ETL Mark is proof of this product's compliance with North American safety standards.
Year Warranty
Backed by Pure Enrichment's industry-leading, hassle-free 5-Year Warranty so your satisfaction is 100% guaranteed.
Product Specifications
Base Dimensions
13.7" x 8.9" x 11"
Steam Time
Up to 60 minutes per tank refill on Level 4
Steam Hose Length
5' cloth-covered hose
Power
120V 60Hz 1500w (on high)
What's in the Box
Upright Garment Steamer, Fabric Brush Attachment, Garment Hanger
Model No. / UPC
PESTMUP / 817387020466
<! –– Bazaarvoice Shopify Integration Version 2.2 ––>