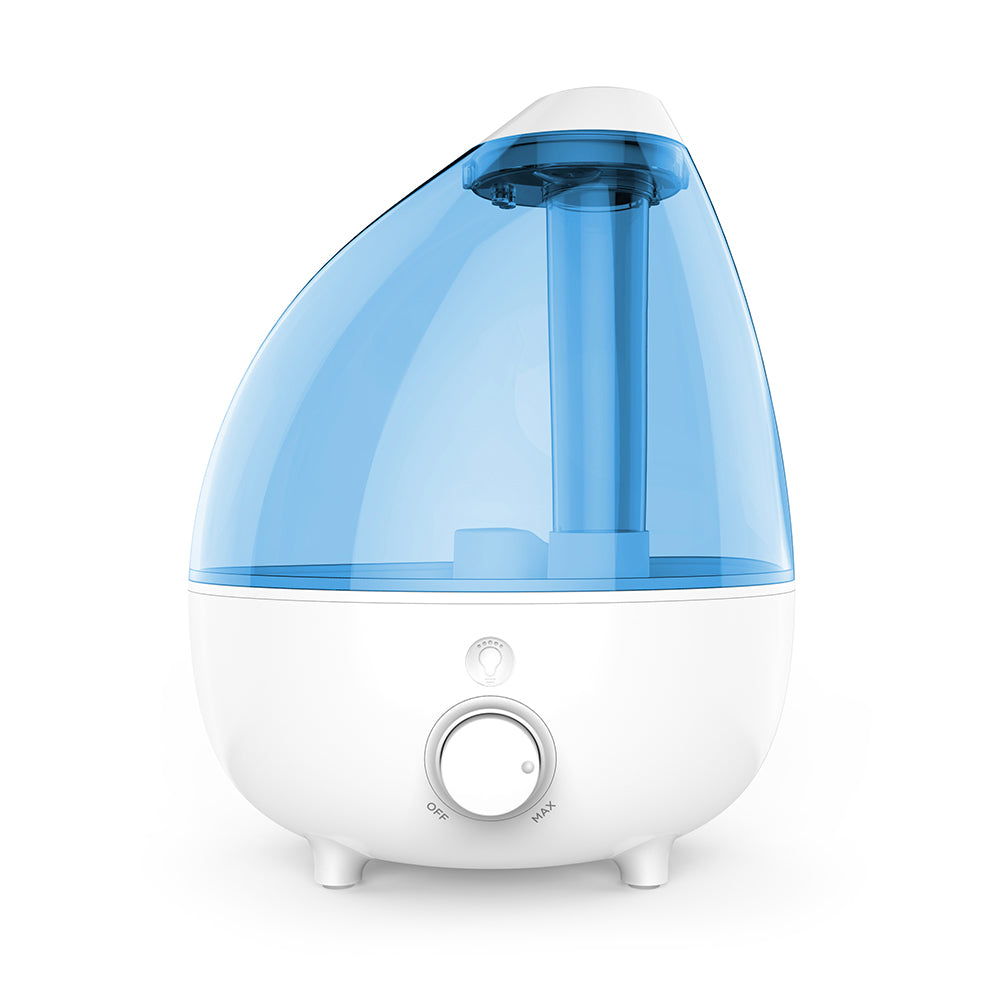 Pure Enrichment®
MistAire™ XL Cool Mist Humidifier
<! –– Bazaarvoice Shopify Integration Version 2.2 ––>
Keep the air in your home moisturized all day long with the MistAire™ XL Ultrasonic Cool Mist Humidifier from Pure Enrichment. This powerful and aesthetically pleasing humidifier is packed with features that make it the perfect solution for improving the air quality in the dry areas of your home or office. The robust 1-gallon water tank is ideal for large rooms up to 500 square feet with a 360° mist nozzle ensuring evenly dispersed mist. Easily regulate the climate in your home to suit your needs with the variable mist control knob and optional single or dual mist nozzles. With up to 24 hours of operation, enjoy a full day and night of moisturized air. This product is backed by Pure Enrichment's industry-leading 5 Year Warranty, so your satisfaction is guaranteed.
Ultrasonic Cool Mist Technology:

Ultrasonic technology provides 10 to 24 hours of continuous operation depending on mist control setting

Variable Mist Control Knob:

  Adjusts moisture output to meet your comfort level

Optional Night Light:

3 soothing color settings to choose from: blue, green, and red
The MistAire™ XL Ultrasonic Cool Mist Humidifier is backed by Pure Enrichment's industry-leading 5-Year Warranty, so your satisfaction is always guaranteed.
FREE SHIPPING ON ORDERS OVER $50!
way to go, MistAire.
Works perfectly; truly adjustable mist volume; the easily-adjustable colors are fun (though the option of adding a red shade to the water is just weird); it's much easier to clean than the old humidifier I have at the other end of the house; a refill lasts several days in my office square footage; and it doesn't drip when I have to carry the tank to the kitchen to refill! Way to go, MistAire.
- Goodtherapy
...amazing...
This thing is amazing, I probably can't overstate how great this product is. It has a huge water reservoir, and is very easy to fill and attach/detach. It has a dial that lets you control exactly how much mist you get, and two separate fountain heads so you can aim the mist, or shoot it in two directions. The actual water tank has a handle to hold, which makes it easy to remove from the base. It is basically silent. I can hear it if I am right next to it, but it produces virtually no noise at all.
- Mindy M.
...amazing the difference just a week has made...
Wow! I have to give this humidifier a strong 5 and let me explain why... The XL water tank is a big plus. Also, being able to control the mist is something I have never had in a humidifier before. It took me a couple nights to get it just right for me and it is amazing the difference just a week has made in the condition of my dry, itchy skin. The night light is also something I have never had before in a humidifier and it is very relaxing.

- Laurie S.
...so pleased...
I am so happy with this!! It works as advertised. I have been using it nightly for a week, just a couple feet from my bed. It is really quiet...surprisingly so. My other humidifier sounds like a jet engine compared to this one. I am so pleased with this purchase that I may buy 1 or 2 more.
- Lori C.
...this one is the best...
Through the years we have purchased several humidifiers, this one is the best, it puts out such a one mist and you can adjust the flow, it is also very quiet, and because we only use distilled water in it we have not had any problems with mold, or with cleaning it. Following the instructions as suggested from manufacturer only distilled water is the key.
- rdk
Product Features
Product Features
Whisper-Quiet Operation
Silent operation is quiet enough for a nursery or office.
Automatic Shut-Off
Safety feature turns humidifier off when the water level is low or the water tank is removed.
Dual Nozzles
Includes both single and dual-mist nozzles for customized moisture output.
Year Warranty
Backed by Pure Enrichment's industry-leading, hassle-free 5-Year Warranty so your satisfaction is 100% guaranteed.
Product Specifications
Power
100-240V, 50/60Hz, 25W
Coverage Area
500 sq. ft.
What's in the Box
Humidifier, disk cleaning brush, two mist nozzles, user manual
Model / UPC
PEHUMLRG / 853975005507
<! –– Bazaarvoice Shopify Integration Version 2.2 ––>