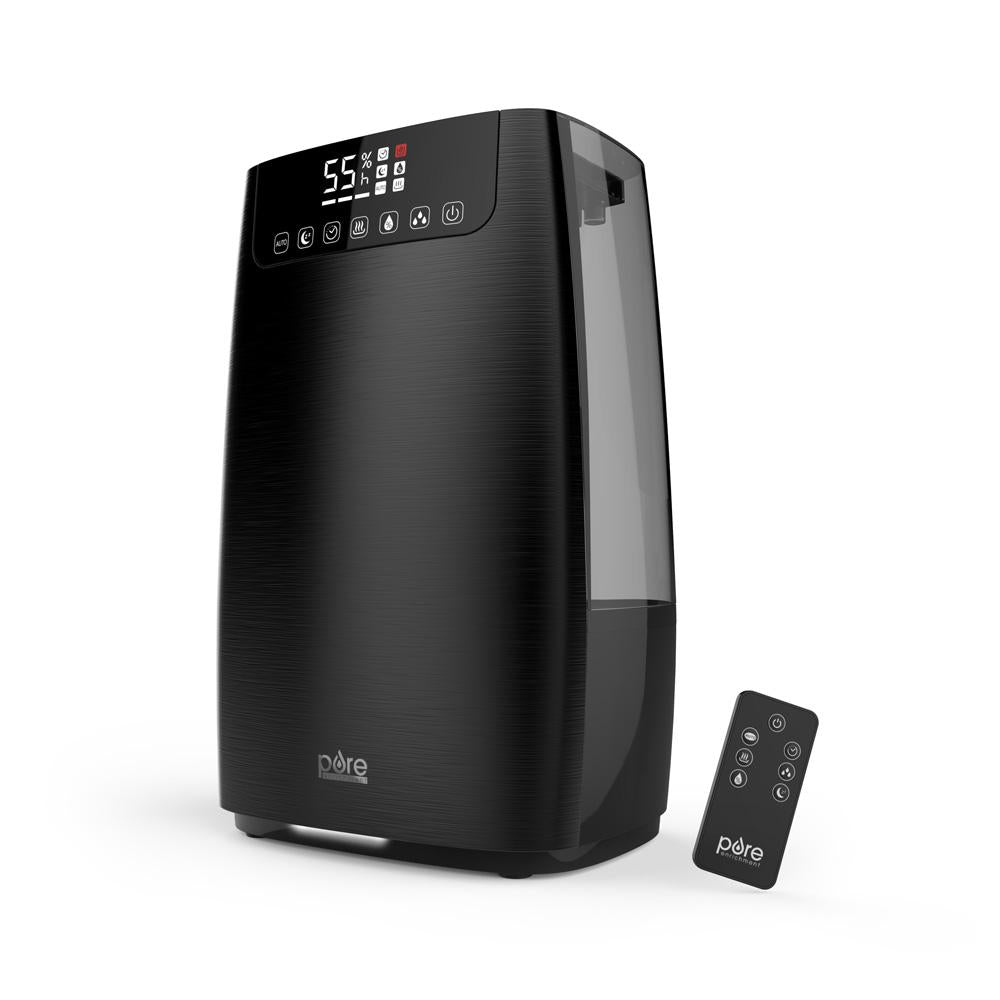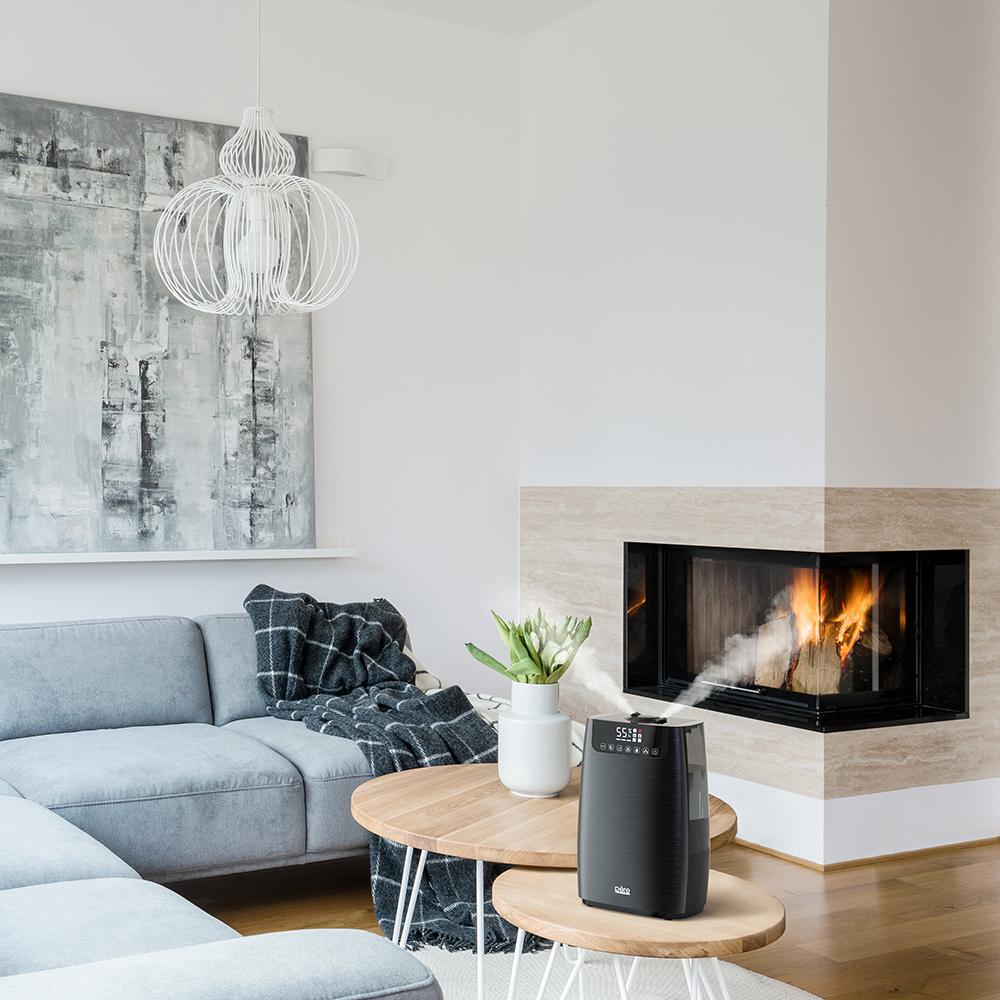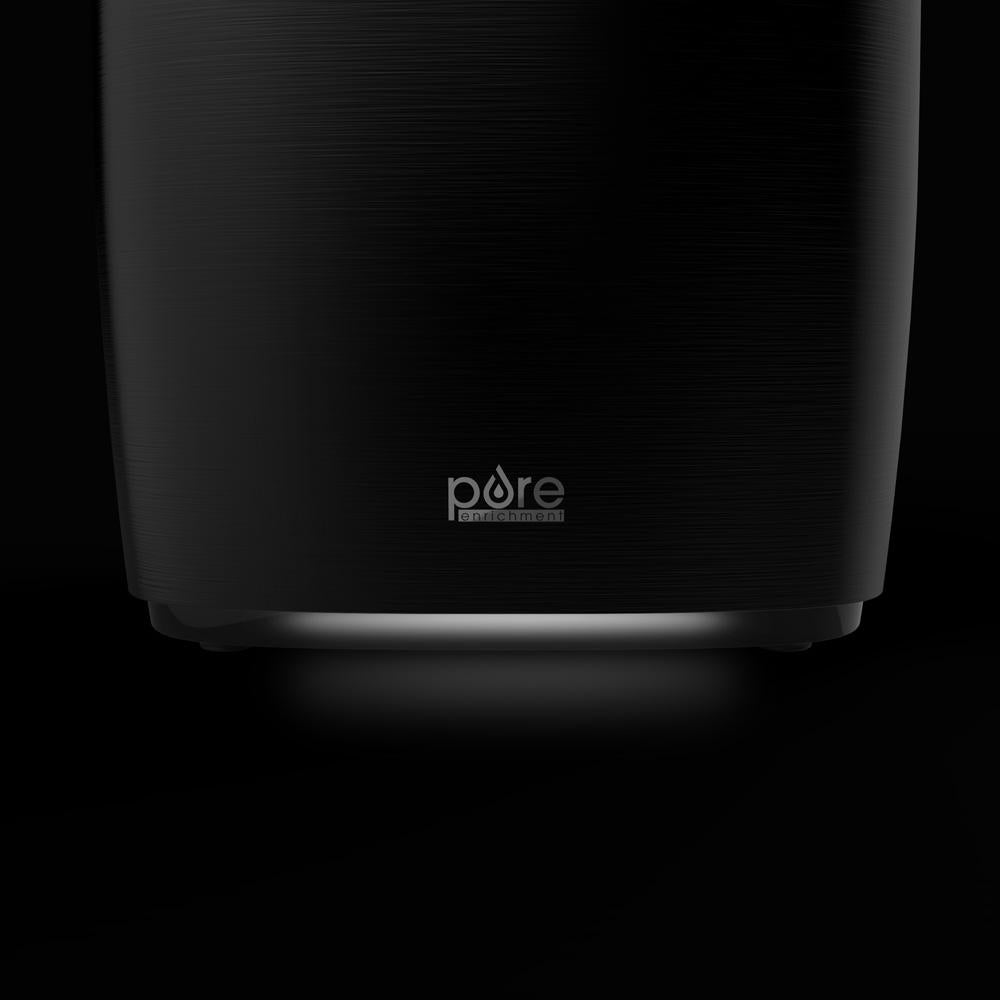 Pure Enrichment®
HUME™ XL Pro Warm & Cool Mist Humidifier
<! –– Bazaarvoice Shopify Integration Version 2.2 ––>
Enjoy the benefits of two humidifiers in one with the Hume XL Pro Warm & Cool Mist Humidifier from Pure Enrichment. The sleek and modern digital display gives you the option of achieving your ideal level of humidity with three speeds of energy-saving cool or warm mist. Whatever setting you choose, the large 5-liter tank provides hours of humidification therapy to help alleviate the most common symptoms associated with dry air. The built-in humidistat gauges the level of humidity in the room and has the option to turn the unit off once the room reaches the pre-programmed level of humidification.
The Hume XL Pro features an automatic shut-off safety feature that turns off the humidifier when the water level is low or the water take is removed from the base. Press the night mode icon to dim the LED control panel lights while you sleep – pressing any button will turn night mode off and re-illuminate the control panel. Easily adjust the humidifier settings from across the room with convenient remote control access.
Hume XL Pro is backed by Pure Enrichment's industry-leading 5-Year Warranty so your satisfaction is 100% guaranteed.
FREE SHIPPING ON ORDERS OVER $50!
well made and engineered.
I rate it 5 stars. The unit is well made and easy to operate and clean. I never thought I would use the remote control, but it saves an old man like me from getting on his knees to operate the unit. Nice. It is also easy to fill and clean. Well made and engineered.
- Thomas S.
I couldn't be happier.
Came in on time, well packaged. This is a great product, and buy. I couldn't be happier. Love that it is whisper quiet, you don't know it's running unless you see the mist. Great to have 2 nozzle's, never saw that before. It's not over sized, so it's not in the way. Love the remote, easy to understand and use. Pretty easy to fill, you just need to lift it straight up to keep from having water drops on the floor. I'm using a gallon of water, so that's not to heavy. I'm very pleased with the HumeXL Pro.
- Margaret H.
best humidifier I have owned.
Quiet, so quiet I cannot hear it running. It is sleek in design and has made the winter air breathable. I like that it lets you know what the humidity of the room is, and that you can set it to whatever level desired. The water tank does not have to be filled every day, not even every other day. With the stream of mist coming out, there is no question that it is working. Oh, and did I mention that it is quiet. Best humidifier I have owned.
- 64 and going strong
...stylish and very functional.
I like the handy remote and the unit itself is stylish and very functional. The space we are using it in is a loft space which can get very hot and dry. This humidifier has made a world of difference! Huge improvement.
- CJ
...such a relief...
I love this unit. I have bronical problems and it is such a relief and easy to use.
- Lex G.
Product Features
Product Features
Whisper-Quiet Operation
Integrated body design suppresses noise for silent operation (≤35dB) that's ideal for a bedroom, nursery or office.
Optional Night Light
Creates a soft, beautiful glow at the base of the humidifier adding a relaxing ambiance to any room.
Certified Safe
The ETL Mark is proof of this product's compliance with North American safety standards.
Year Warranty
Backed by Pure Enrichment's industry-leading, hassle-free 5-Year Warranty so your satisfaction is 100% guaranteed.
Product Specifications
Dimensions & Weight
8.9" x 5.9" x 14.4" / 5.6 lbs
Model No. / UPC
PEHUMPRO / 817387020183
What's in the Box
Humidifier Base, 5-Liter Water Tank, Water Tank Cap, Remote Control, User Manual
Coverage Area
Up to 430 sq. ft.
Run Time
Warm Mist – Up to 25 hours on low; Cool Mist – Up to 50 hours on low
Water Tank Capacity
5 Liters (1.3 Gallons)
Moisture Output
Warm Mist – ≥400ml/h on high; Cool Mist – ≥300ml/h on high
<! –– Bazaarvoice Shopify Integration Version 2.2 ––>