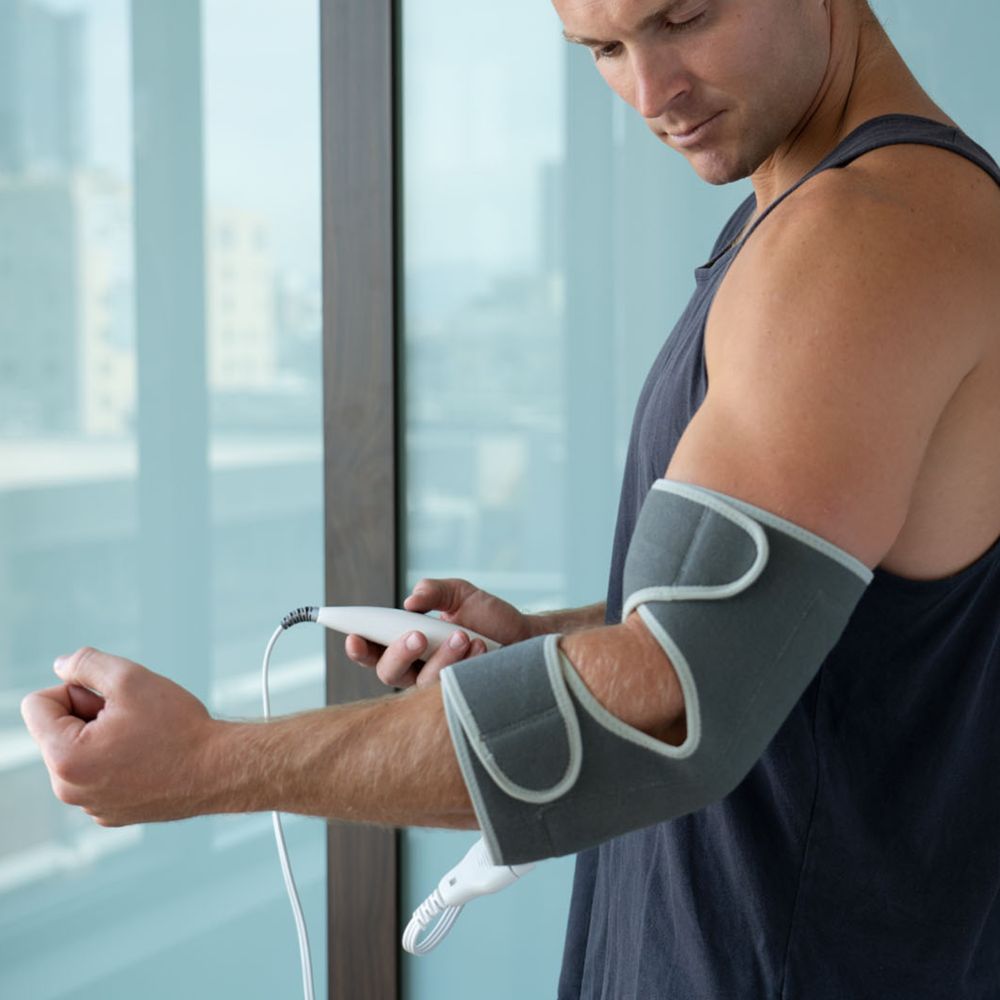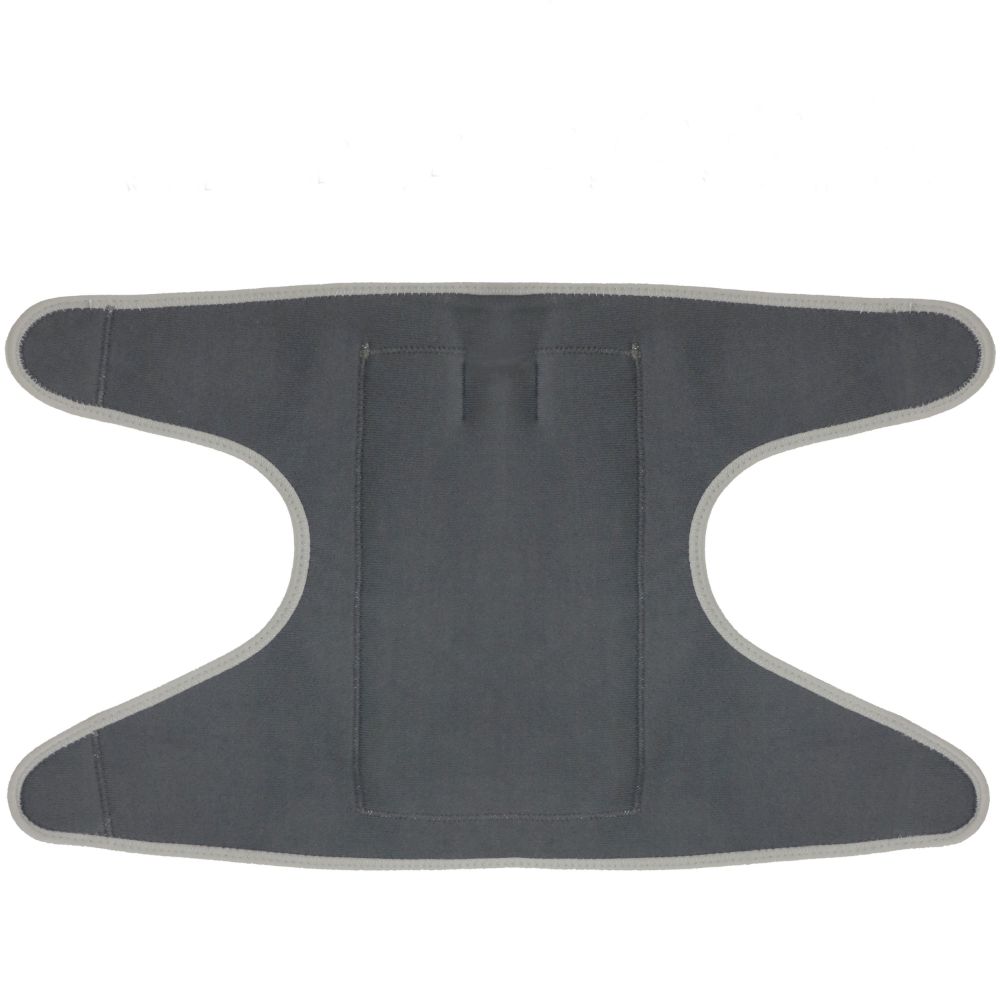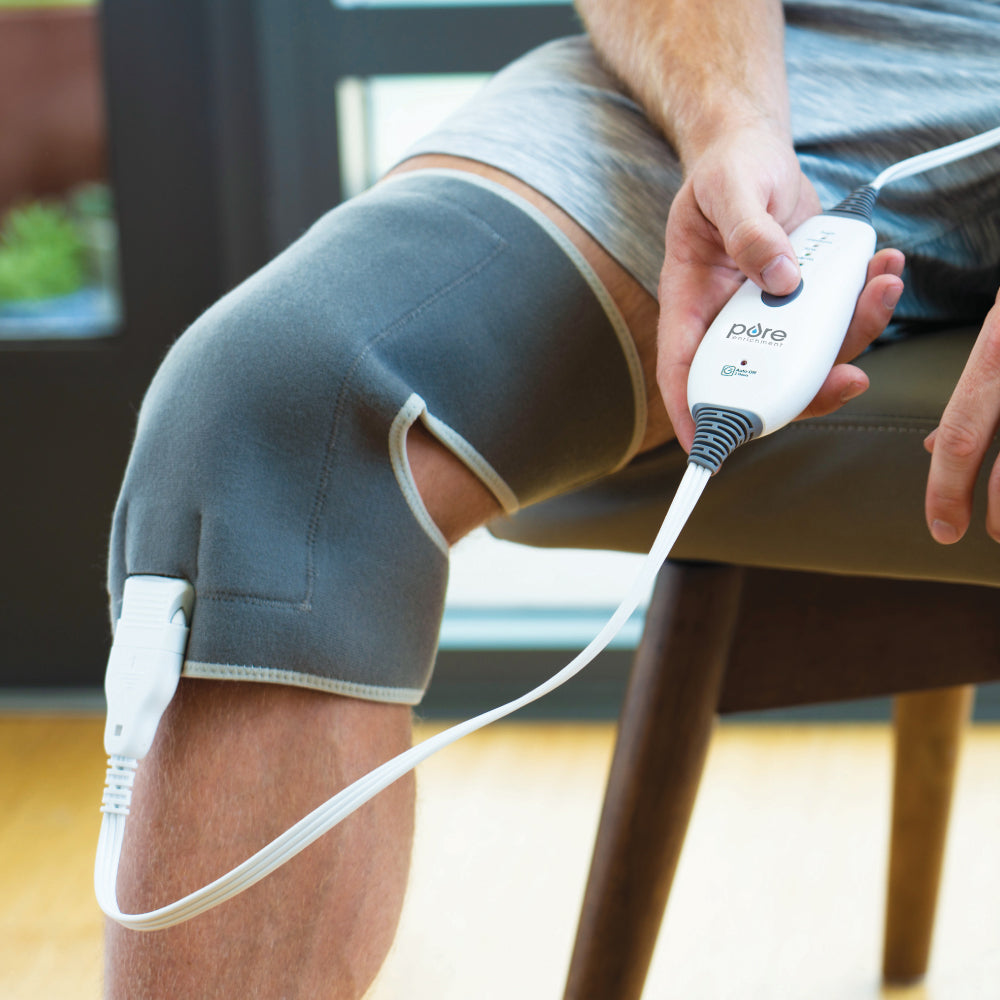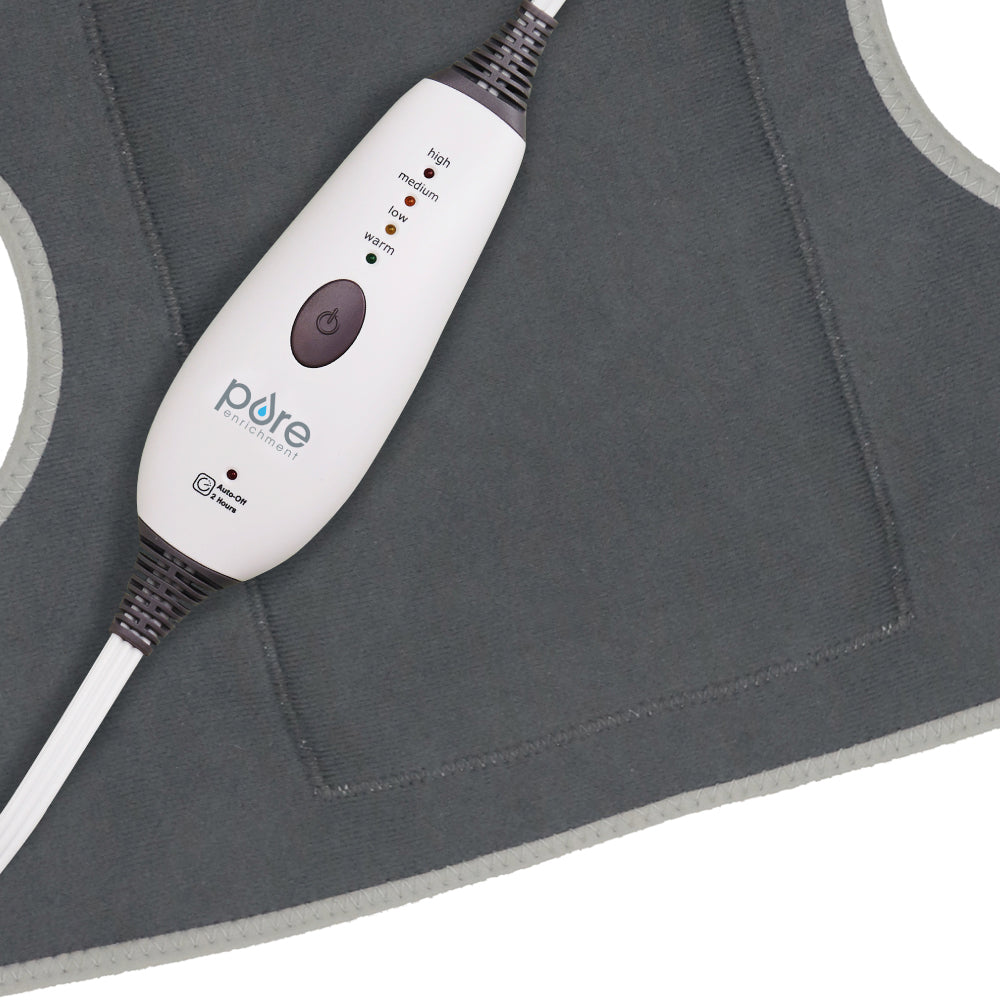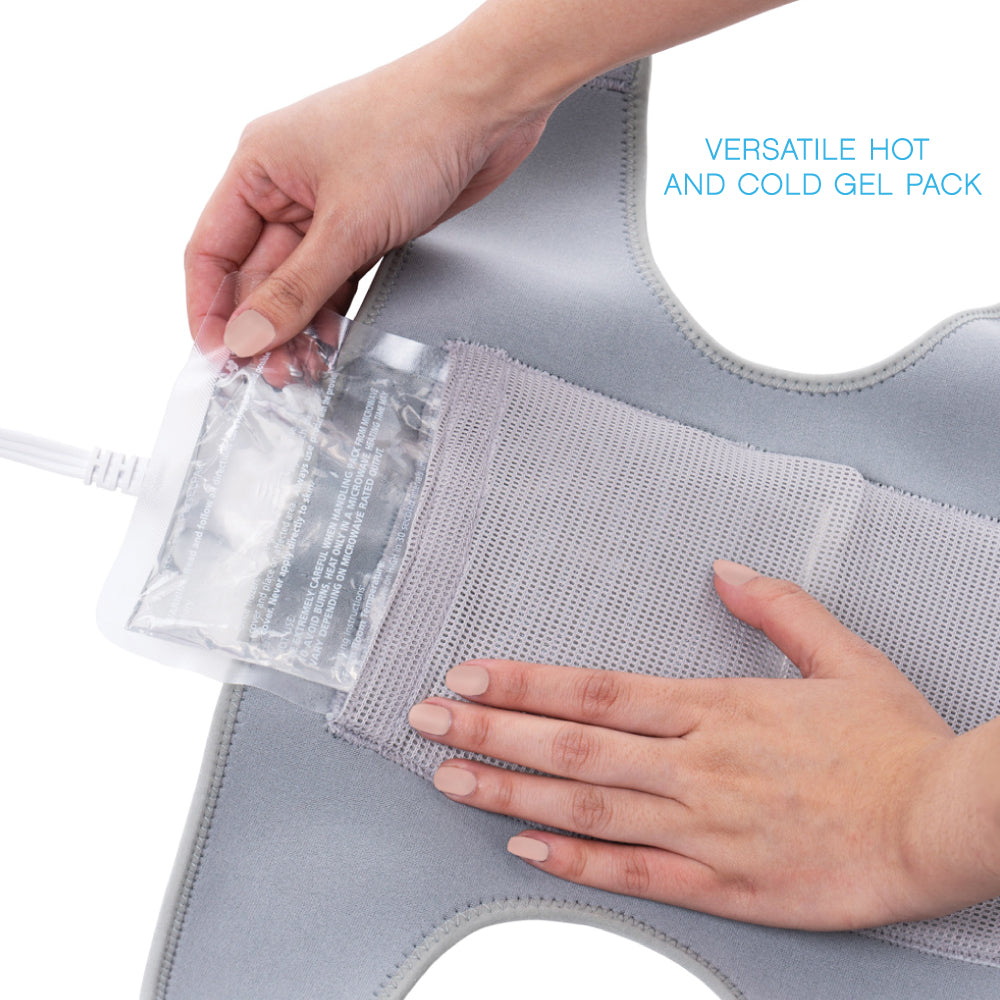 Pure Enrichment®
PureRelief™ Universal Joint And Muscle Heating Pad
<! –– Bazaarvoice Shopify Integration Version 2.2 ––>
Wrapping sore, aching muscles for targeted hot/cold therapy is easy with the PureRelief™ Universal Joint Heating Pad from Pure Enrichment. Made with soft and breathable neoprene, it feels comfortable against the skin for daily treatment sessions to temporarily relieve chronic pain or to help recover from surgery, injury, or a rigorous workout. A built-in pocket that holds an optional hot/cold gel pack is great for cordless and portable use for a more intense therapeutic experience based on your body's needs. Use for 15-20 minutes at a time or as directed by your healthcare provider for maximum effectiveness.
Flexible Universal Design:

 Contours to fit knee, shoulder, arm, abdomen, back, with two customizable straps for targeted temporary pain relief treatment

Hot & Cold Therapy

: A therapeutic gel pack that can be warmed or cooled and inserted into the built-in sleeve for cordless hot/cold therapy

2-Hour Auto Shut-Off:

Conserves energy and prevents burns caused by excessive heating

Convenient Storage Bag:

Keeps the heating pad protected in between uses and makes for easy storage
The PureRelief Universal Joint Heating Pad is backed by Pure Enrichment's industry-leading 5 Year Warranty, so your satisfaction is guaranteed.
FREE SHIPPING ON ORDERS OVER $50!
...can be used hot or cold!!
I have been using the Pure Heating Pad for about 2 weeks now and I can honestly say I have never seen such a versatile heating pad!! I have torn rotator cuffs, and trying to get a pad on my shoulders that stay firmly in place is nearly impossible. With the Pure heating pad, it's made for those odd places - joints. But the real perk is the ability to use it in ANY part of your body. With adjustable straps, it will fit any size person. It's especially great for my boyfriend, who has spinal issues and will hurt in the weirdest of places - I've yet to find a position this will not work for. ABSOLUTE PLUS - can be used hot OR cold!!
- Lorelei
...a dream come true.
This product is a dream come true.I could not be happier.This has helped my back,Shoulder and knees.It is also for your elbow and I have even used it on my leg.It has a flexible universal design.Also has 4 heat settings. When not plugged in it has a cold gel pack for swelling or you can heat the gel pack.It is machine washable. I love how it can be adjusted so easily for a smaller person to a larger person.It has a 2 hr shut off in case you forget.Cons: None
- Shelby1008
I absolutely love this heating pad!
I absolutely love this heating pad! It is different than others in that you can use it in those hard to reach areas. Need it to stay put on a Shoulder, or knee? That isn't a problem with this heating pad. It has Velcro and has straps that help it to stay put exactly on the joint or area in need of heat therapy. It also comes with a cooling pack that you can use too if need of Ice therapy. This is a all in one item that will help you soothe sore, overworked, or tired muscles. This will replace my old methods of trying to heat my arthritic knees.
- JuliaCPhT83
works really great!!!
This heating pad is great. You can use it on so many parts of your body. Knees, elbows, shoulders, lower back and more. It has a hot and cold gel pack and 2 extra straps for when using it on your back. It has four settings warm, low, medium or high. It also comes with a nice bag to store it in. It heats up fast. Works really great!!!
- Christa17_81
love this heating pad.
I received this product in a timely manner and was super excited that I could literally put this heating pad anywhere and have it stay in place. I also love that it has the hot or cold option. I hurt my ankle and was able to attach this to the exact spot I needed and it stayed in place. Love this heating pad.
- alaxoxo707
Product Features
Product Features
4 Heat Settings
LED controller adjusts 4 heat settings from warm to high based on your comfort level ranging from 110℉ to 140℉.
Drug-Free Therapy
Naturally and temporarily relieve tension, stiffness, and joint pain without the use of over-the-counter medications.
Machine Washable
Simply toss into the wash to help maintain the beauty and softness of the fabric for years to come.
Year Warranty
Backed by Pure Enrichment's industry-leading, hassle-free 5-Year Warranty so your satisfaction is 100% guaranteed.
Product Specifications
Auto Shut-Off
120 minutes
Heat Settings
Warm–temperature range (~110° F)
Low–temperature range (~120° F)
Medium–temperature range (~130° F)
High–temperature range (~140° F)
What's in the Box
Electric heating pad, 2 adjustable straps, hot/cold gel pack, detachable LED controller, storage bag
Model / UPC
PEJTPAD-G / 853975005583
<! –– Bazaarvoice Shopify Integration Version 2.2 ––>