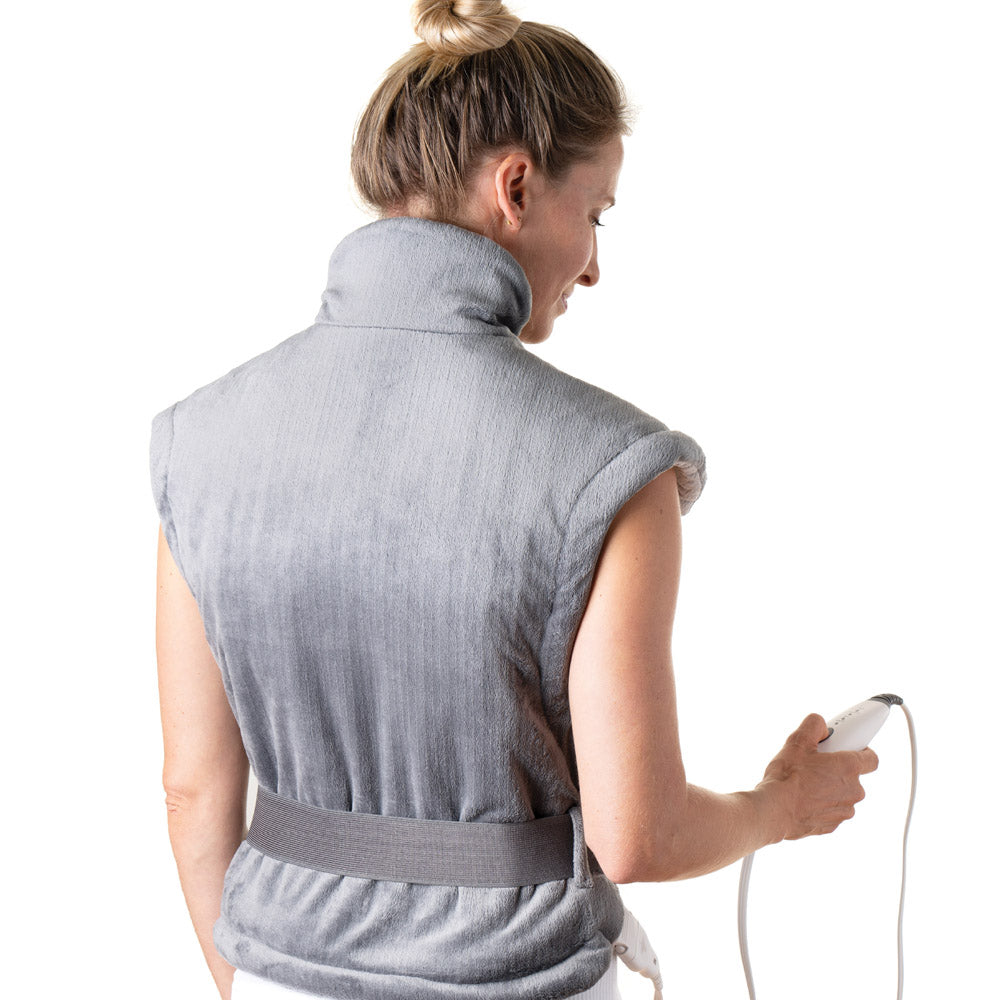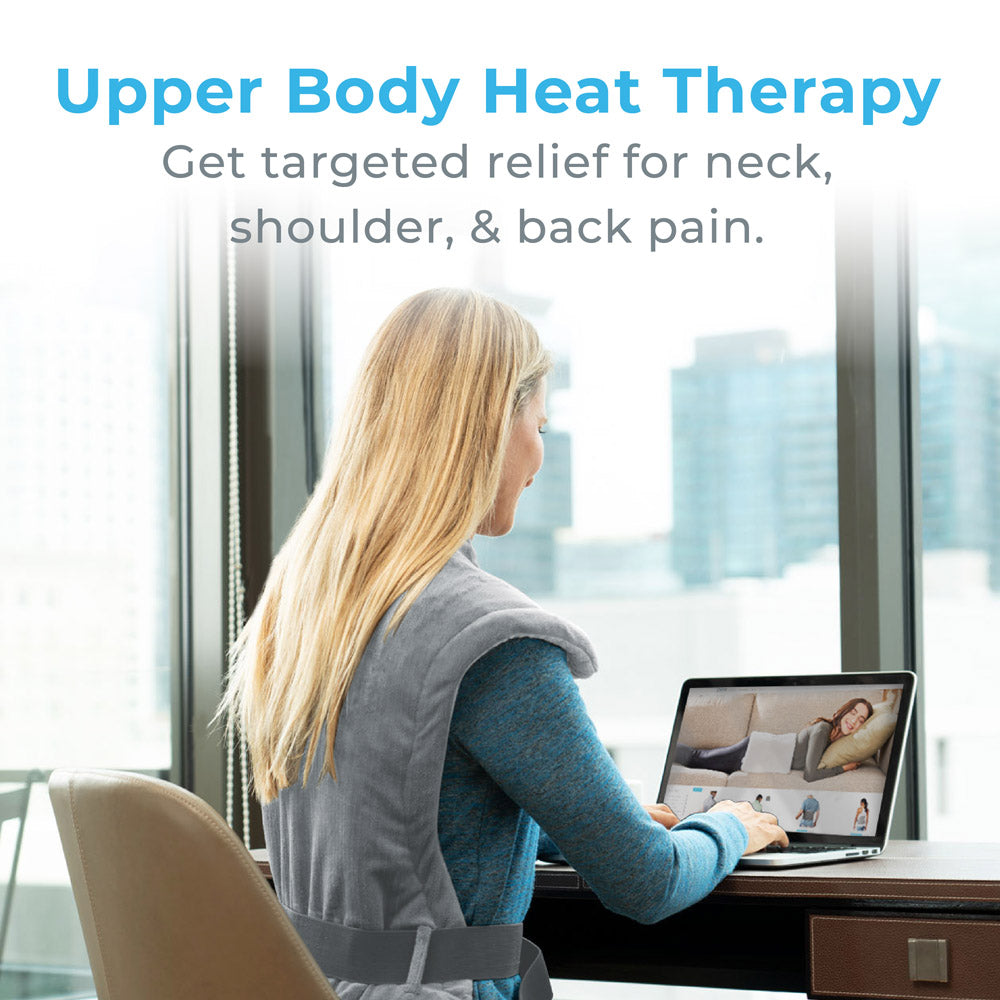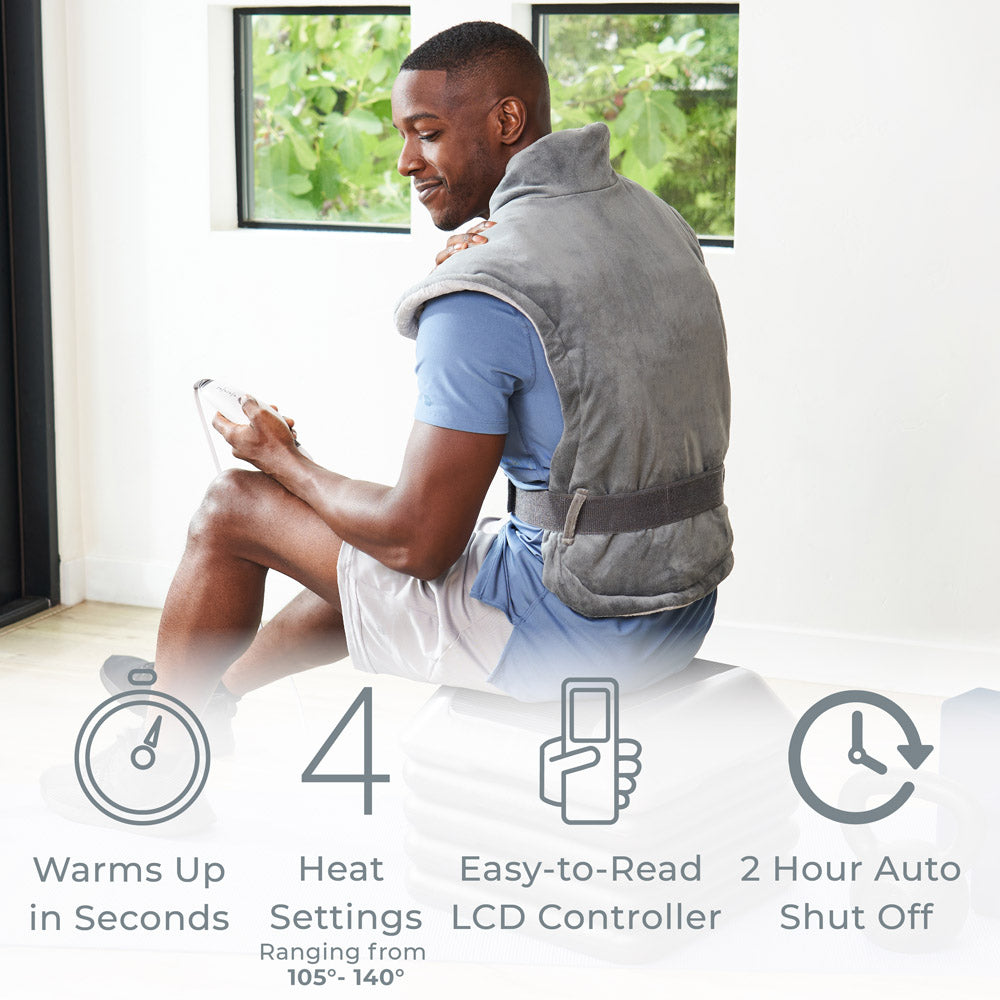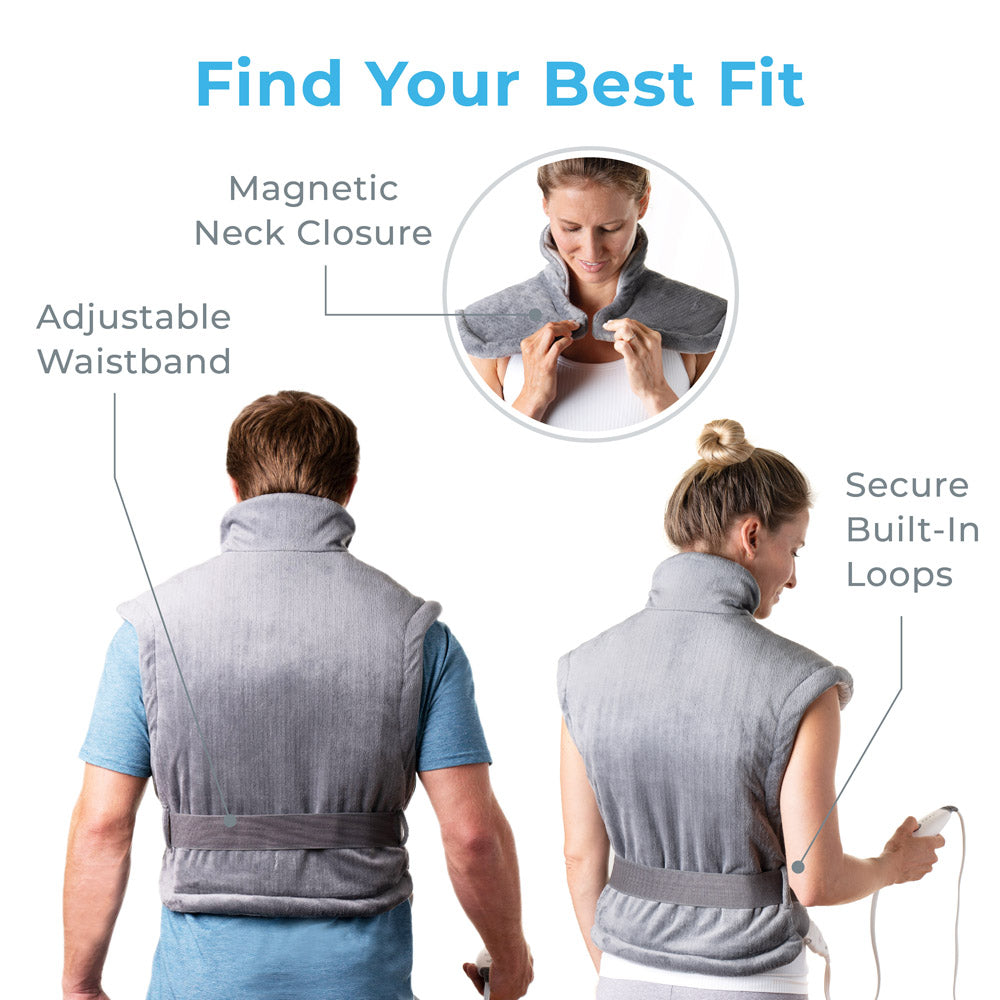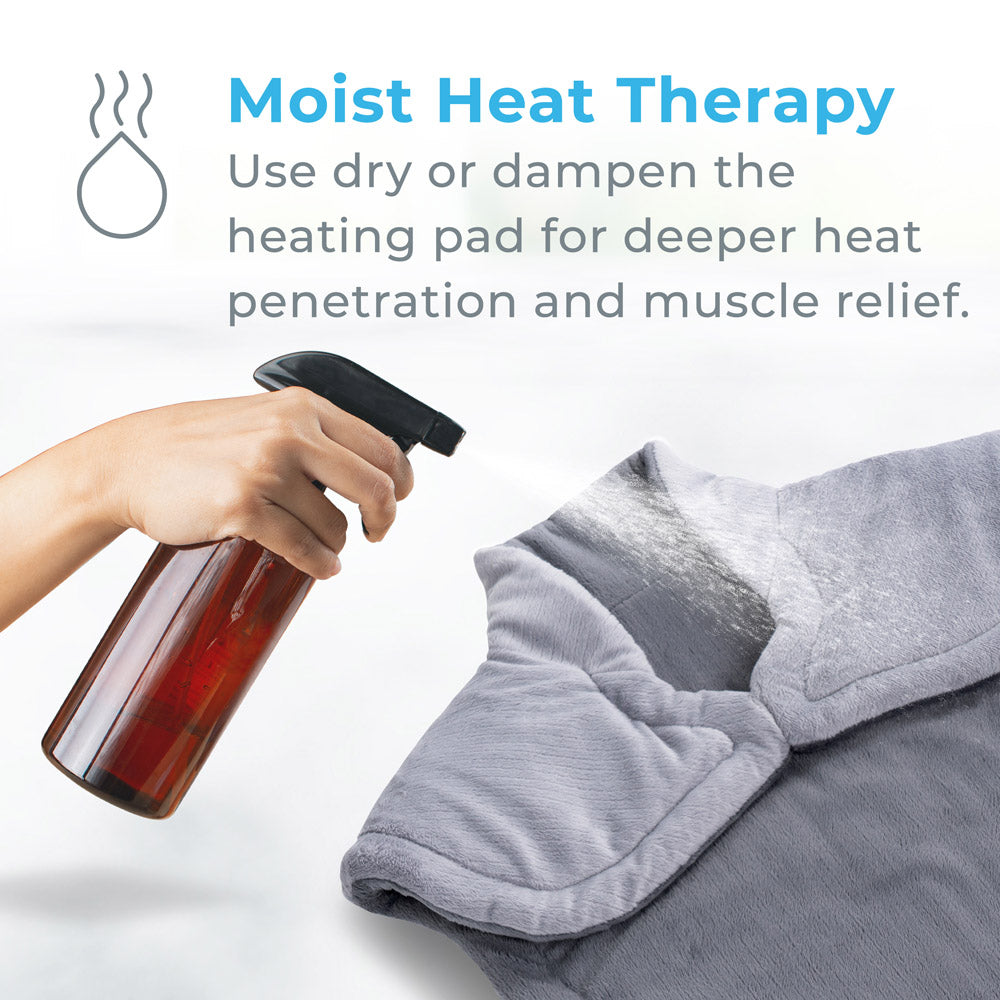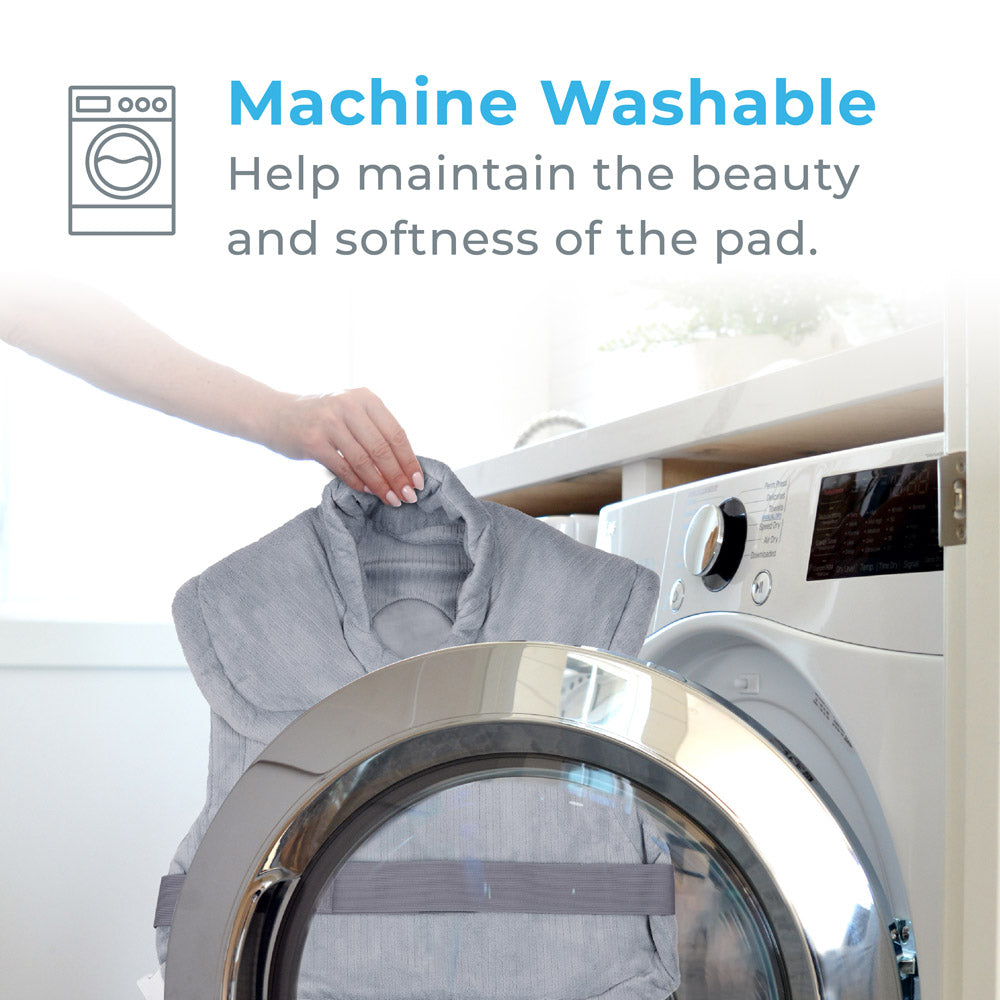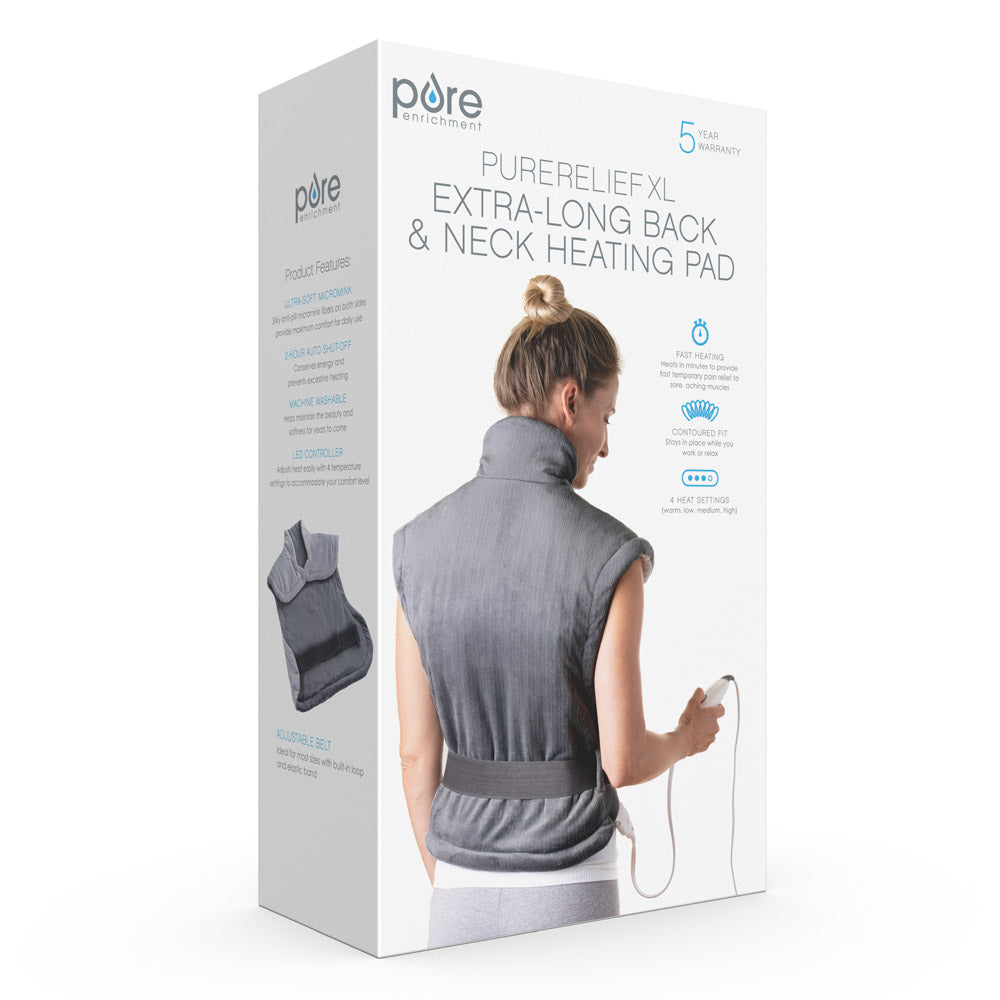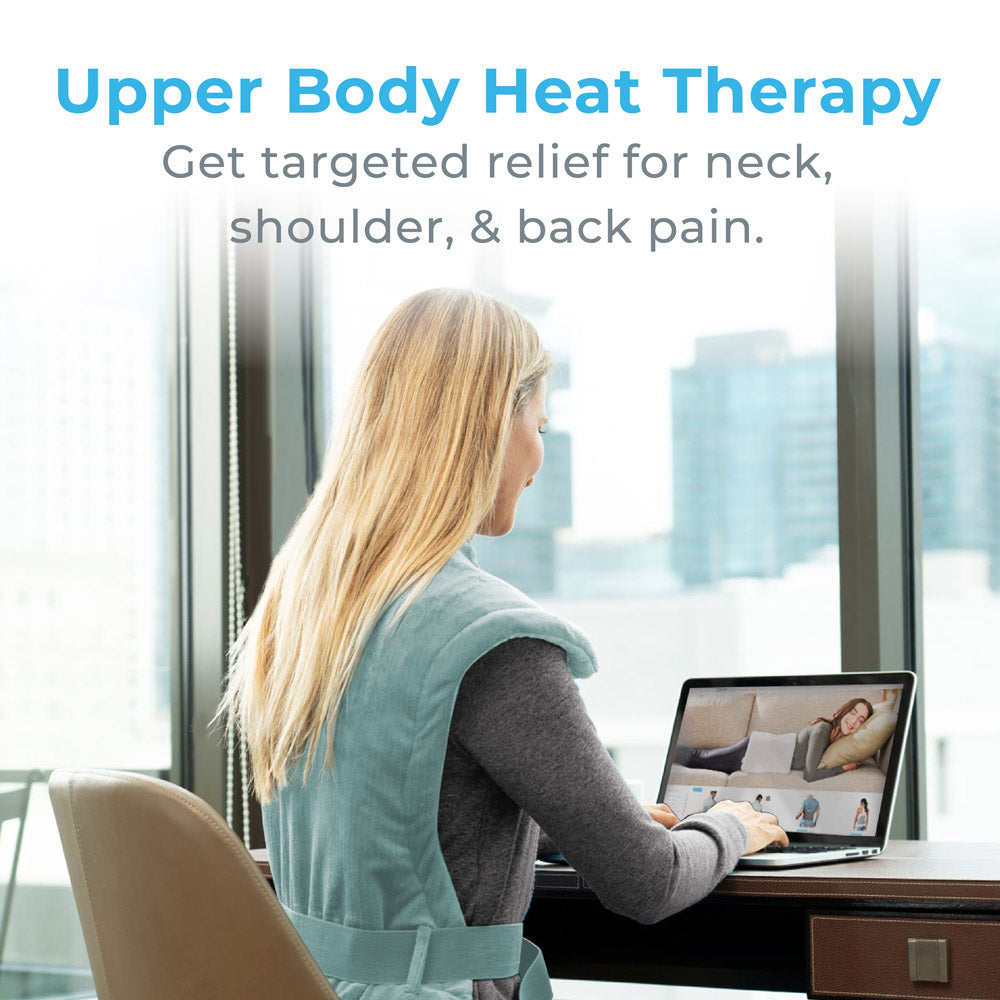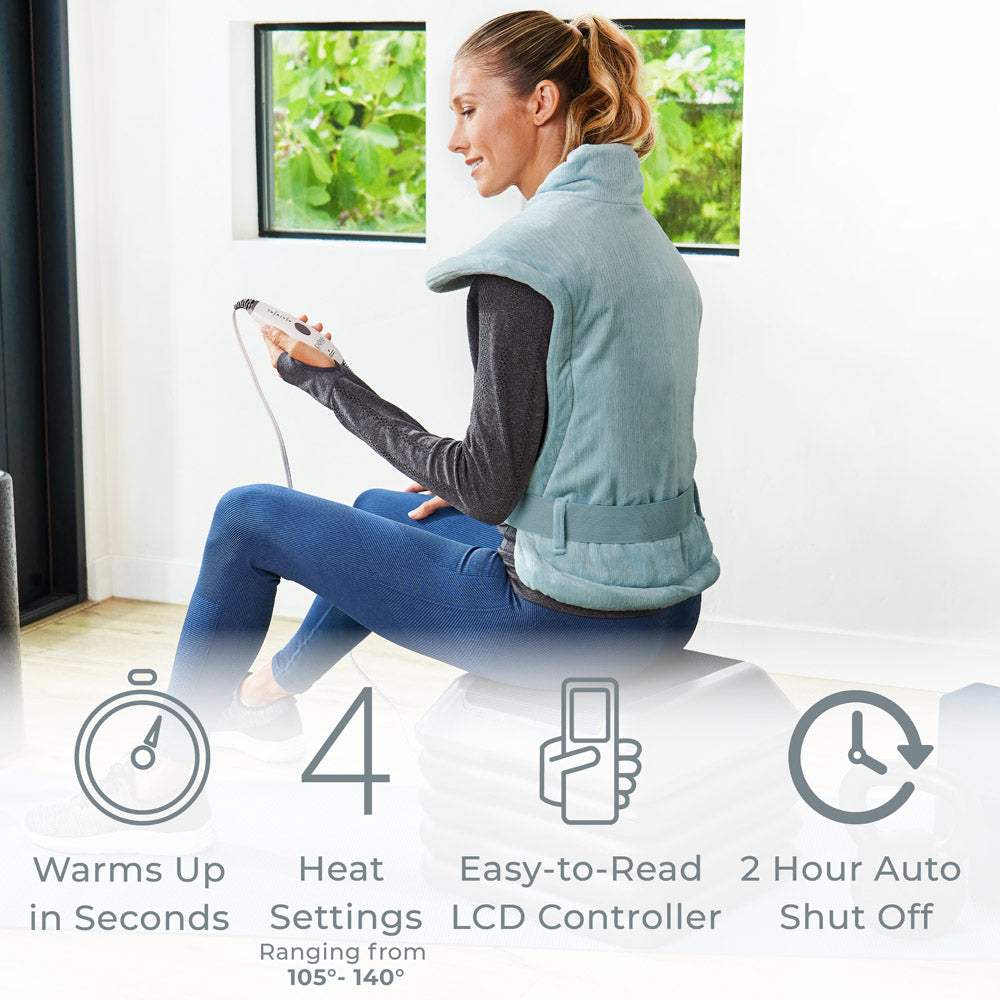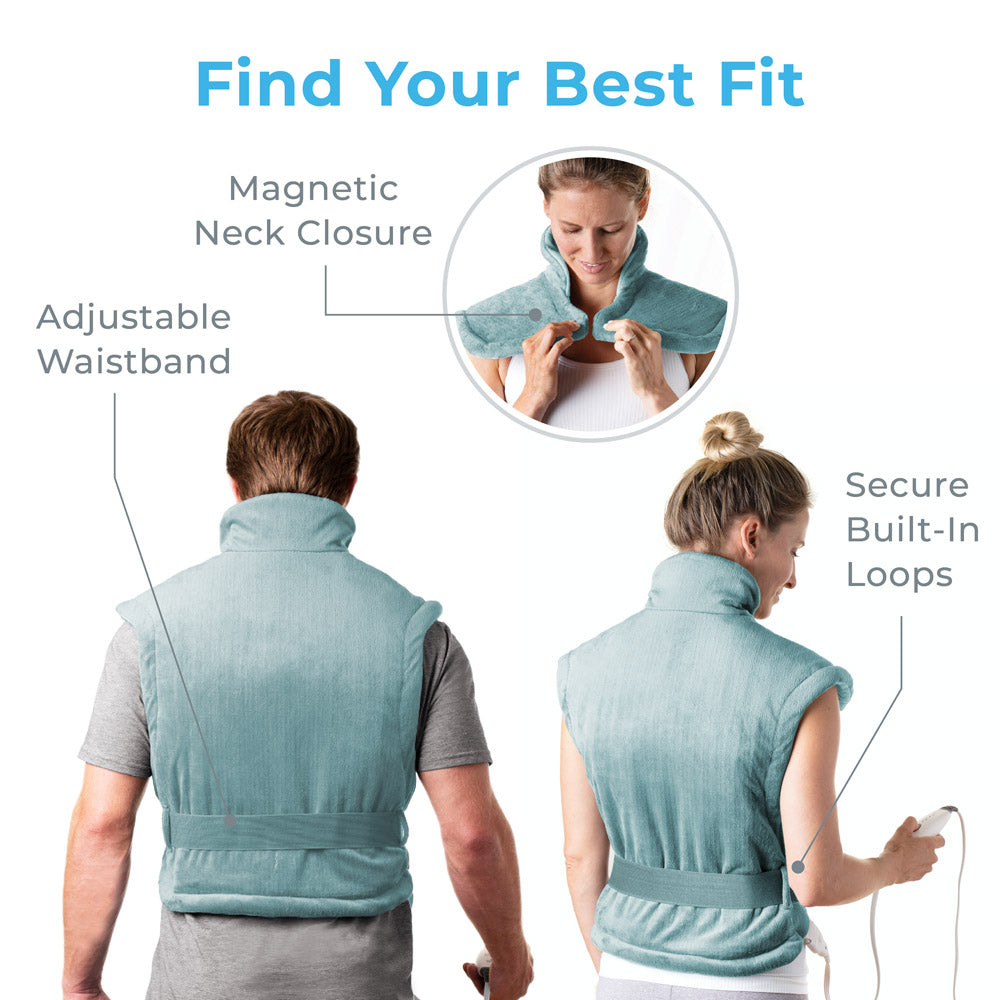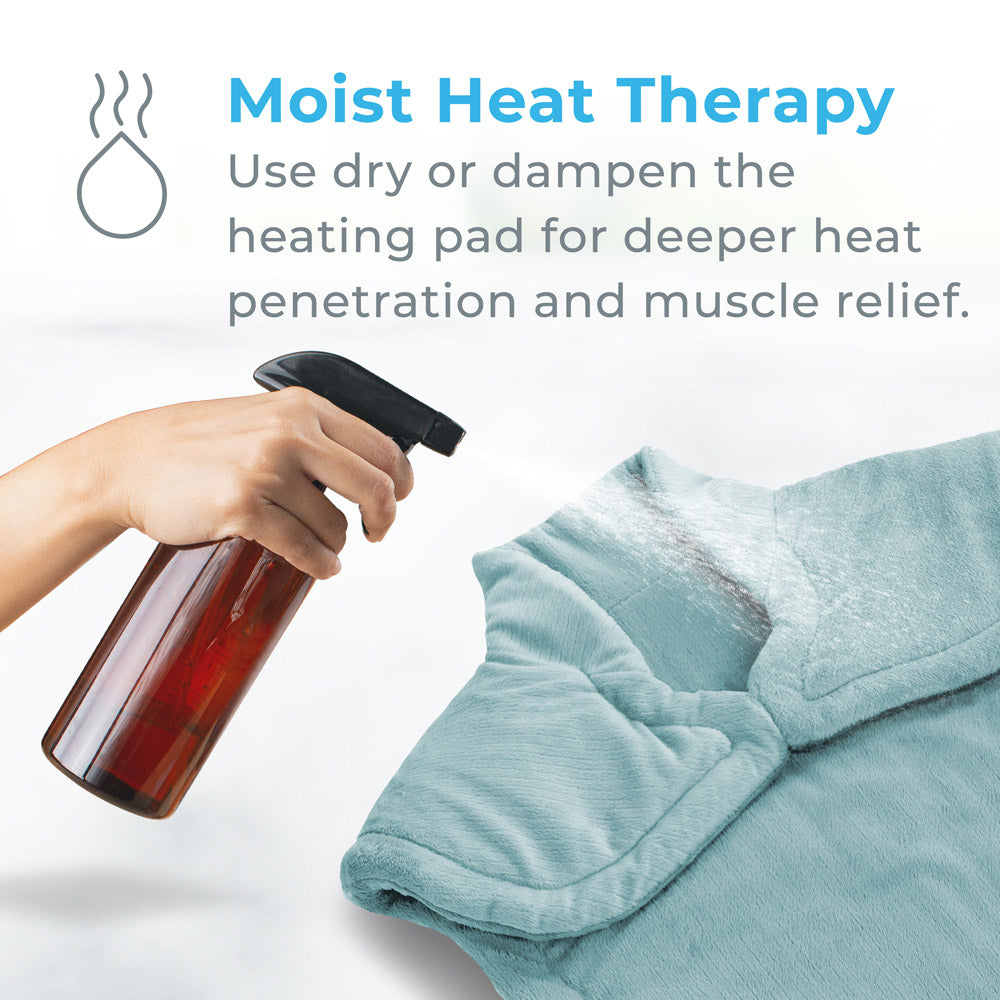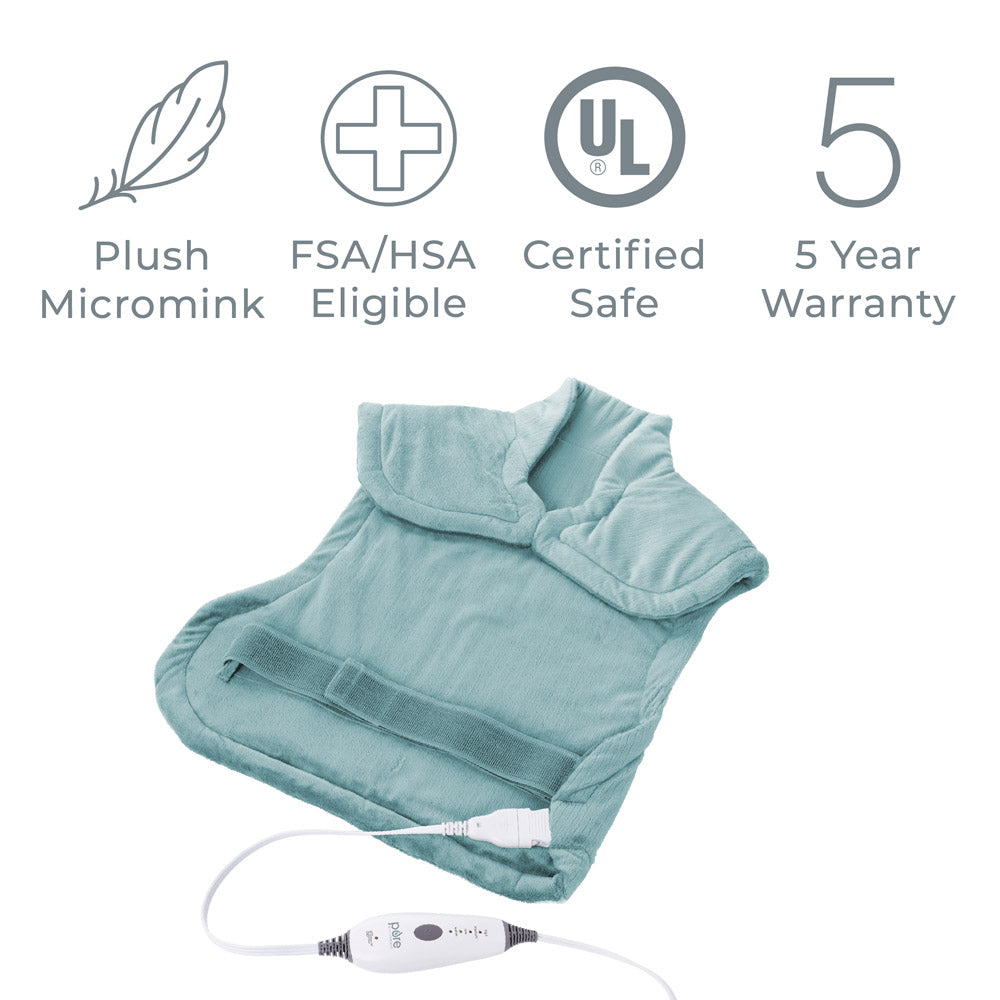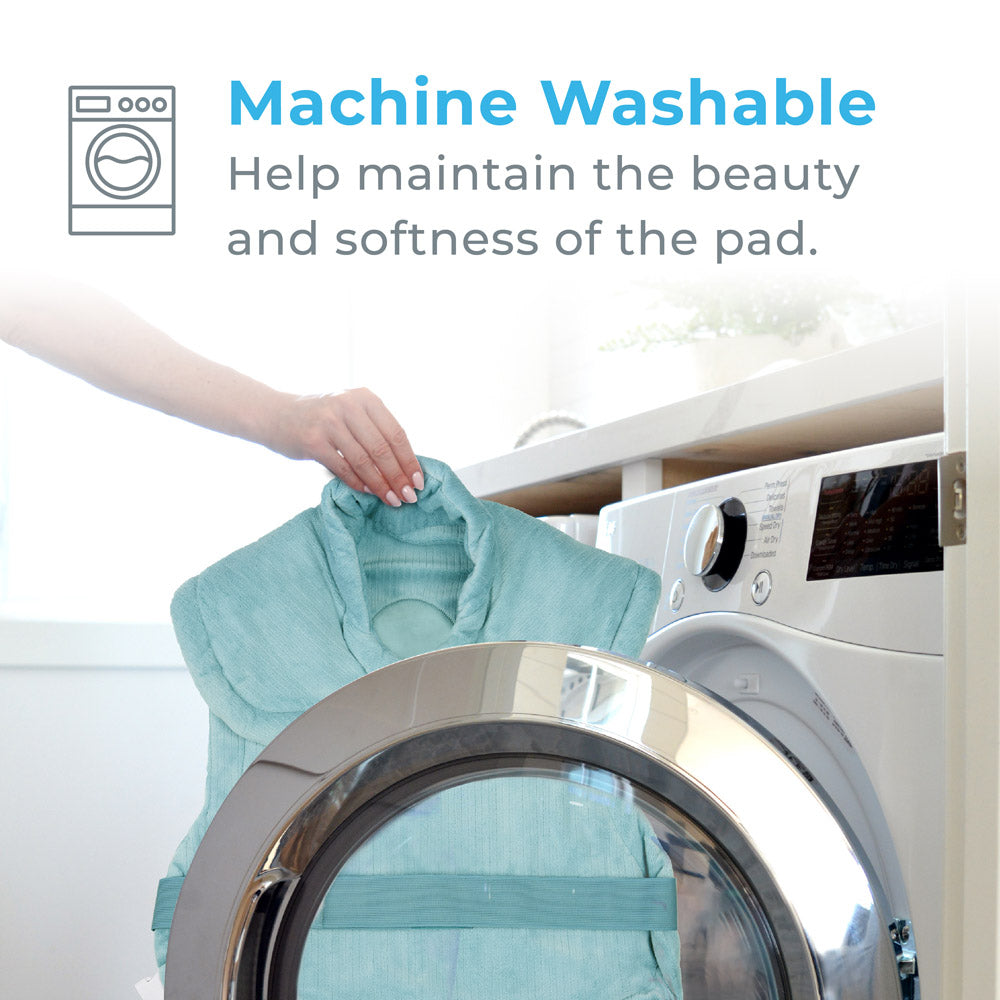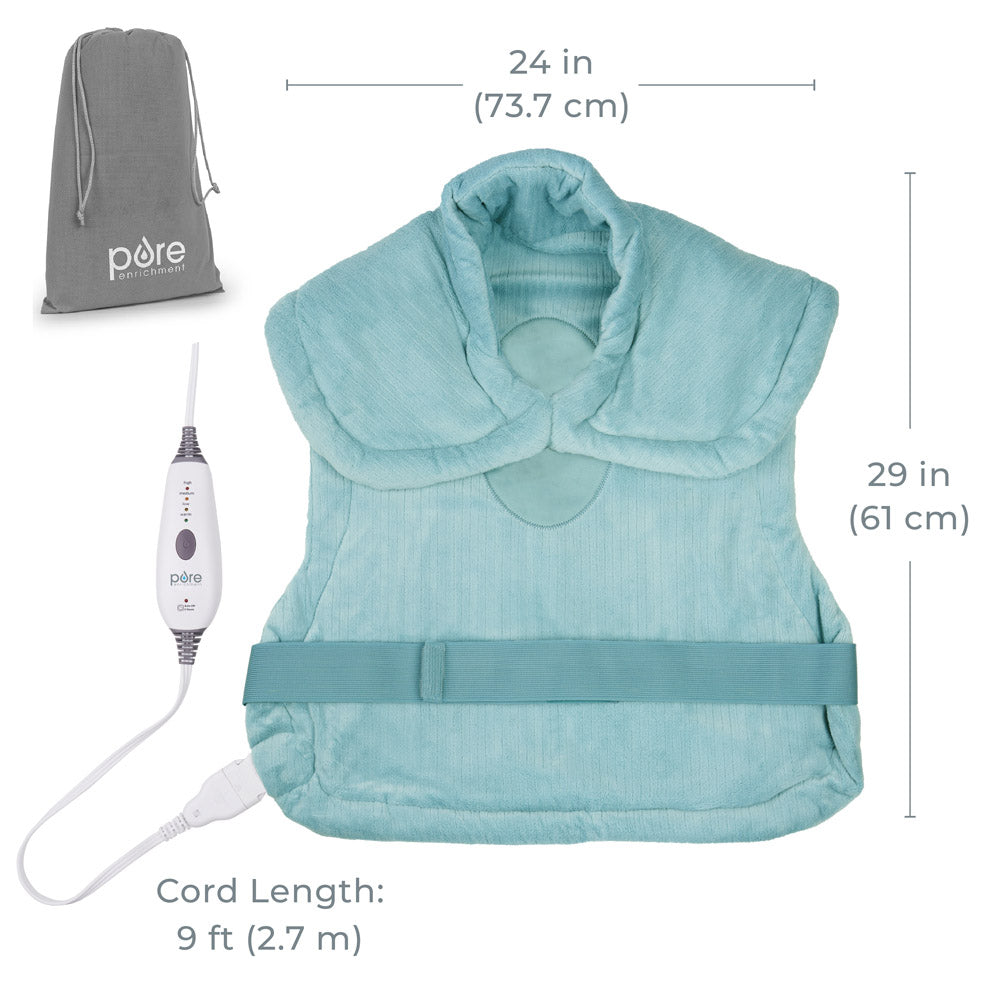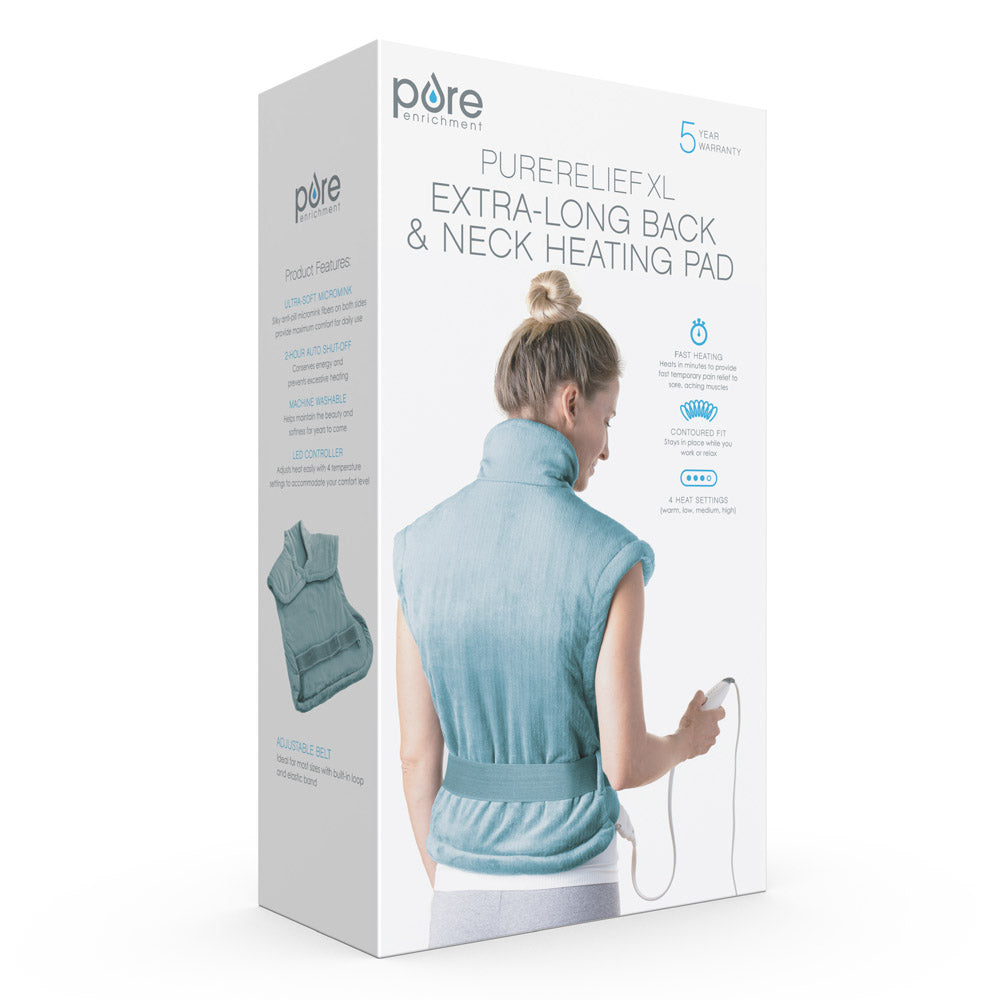 Pure Enrichment®
PureRelief™ XL Extra-Long Back & Neck Heating Pad
<! –– Bazaarvoice Shopify Integration Version 2.2 ––>
Drape yourself in the ultimate heat therapy with the PureRelief™ XL Extra-Long Back & Neck Heating Pad from Pure Enrichment®. This full-coverage heating pad is perfectly contoured to temporarily relieve muscle tension, aches, pain, and soreness where people experience it most-the neck, back, and shoulders. Thanks to its convenient built-in magnetic closures, it is designed to stay in place throughout your entire treatment session. For an even better fit, use the built-in loops and optional elastic belt to taper the heating pad to your body.
4 THERAPEUTIC HEAT SETTINGS: Heating pad warms up quickly

to temporarily soothe and reduce muscular pain and stiffness. You can easily adjust

between 4 heat settings that range from 110-140

°F with the

built-in ergonomic LED controller. A

convenient 2-hour shut-off conserves energy and

prevents the pad from overheating. 

WEARABLE DESIGN & ADJUSTABLE FIT: This

29"x24"

full-length style fits most and provides coverage for the neck, shoulder, back, sides, and abdomen. It

includes built-in loops and an optional elastic belt for a secure, ergonomic fit that hugs the body.

Flexible, lightweight, and UL certified safe, this heating pad offers warming relief to sore muscles and achy joints. 

MACHINE-WASHABLE FABRIC: Our velvety, anti-pill micromink fibers are machine-washable (on the delicate cycle) to help preserve the product's beauty and softness for years to come.
AT-HOME COMFORT: Go about your day at home with drug-free pain relief whether you're cooking in the kitchen (you'll appreciate the 9 ft cord!) or relaxing in the bedroom. Headed to the office? Simply plug in our Extra-Long Back & Neck Heating Pad at your workspace and reap the benefits all day long. You can even

spritz the pad with water or dampen with a wet sponge to experience moist heat therapy.

WHAT YOU GET: Pure Enrichment's guaranteed 5-Year Warranty, electric heating pad with detachable LED controller, elastic belt, storage bag, and FSA and HSA eligibility. Our customer support team provides daily quality service and peace of mind to millions worldwide all from a brand you can trust.
FREE SHIPPING ON ORDERS OVER $50!
...relief within minutes!
Wowee...relief within minutes! The amount of heat you need is right here. I've had chronic back pain and after years of the microwaveable heat wraps I made it my mission to find a heating pad that I could control the level and duration of heat therapy. This is it....at last. Full heat therapy from neck to shoulders and down the full spine. This is the one I have needed.
- Saving Face
...large enough for almost my entire back.
This is exactly what I was looking for in a heating pad. The material is very nice and soft, it is large enough for almost my entire back. The weighted area for the shoulders keeps it in place. If I just want to use it on my lower back, I just fold in half! I also like the controller, easy to see and use.
- Snowsleder
...maintains a comfortable heat level.
Great product! - I ordered this heating pad before my scheduled eye surgery that required all day face down positioning for 5-7 days. I have arthritis in my neck and Back and I hoped that this heating pad would alleviate some of the discomfort. I used it for hours during those days and it truly worked better than I expected. It is very comfortable and it maintains a comfortable heat level. I recommend it to anyone who suffers from neck and back pain.
- Lynn C.
...helps my back relax.
The vest has a nice, solid weight to it--not heavy, but comfortingly substantial. It keeps my back and whole torso comfortably warm on the hottest setting. I wouldn't say too hot by any stretch, but definitely adequately warm. Keeps me toasty, and helps my back relax. Heats well all the way up to over the top of my shoulders and to the base of my neck.
- ROBIN ni D.
...the best part is how it covers your shoulders.
I love this heating pad! - It's very soft and comfy but the best part is how it covers your shoulders. The magnet closure is also a fantastic design. It's also weighted at the edges so it gives the pad a little bit of heaviness so it stays in place. I've used it many times now and I feel that it was worth the money. I would buy it again!
- EasyRhin0
Product Features
Product Features
4 Heat Settings
Customize your relief using the LED controller to adjust between 4 heat settings. Choose the level of warmth that works best for you with settings that range from 110℉ to 140℉.
Automatic Shut-Off
Convenient feature automatically turns off the heating pad after 2 hours to conserve energy and prevent excessive heating.
Super Soft Micromink Fabric
Gentle, machine-washable fabric feels soft and comforting on bare skin and offers maximum comfort for daily use.
Year Warranty
Backed by Pure Enrichment's industry-leading, hassle-free 5-Year Warranty so your satisfaction is 100% guaranteed.
Product Specifications
Auto Shut Off
120 minutes
Material
Double-sided Micromink
Heat Settings
4
Warm–temperature range (~110° F)
Low–temperature range (~120° F)
Medium–temperature range (~130° F)
High–temperature range (~140° F)
What's in the box
Heating pad, detachable LED controller, storage bag, user manual
Model / UPC
PEHPBACK-G / 817387020732
PEHPBACK-SG / 817387022170
<! –– Bazaarvoice Shopify Integration Version 2.2 ––>