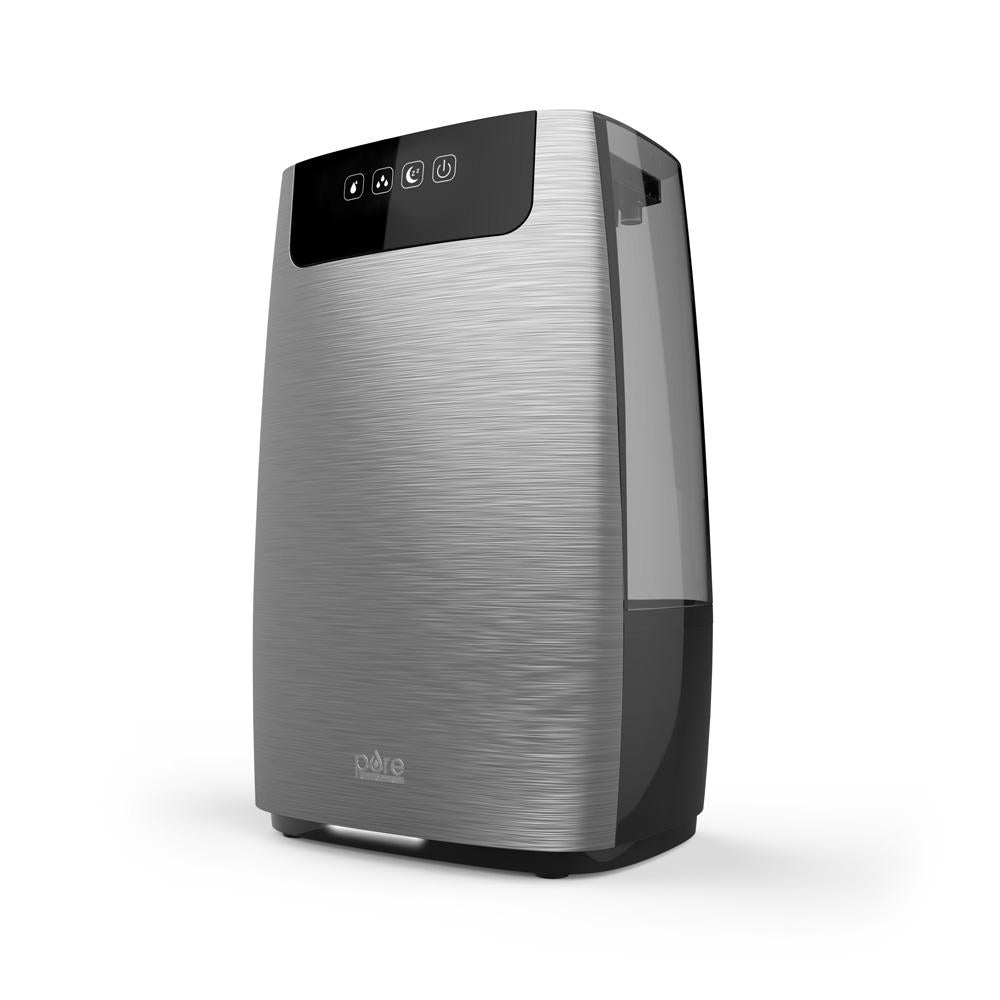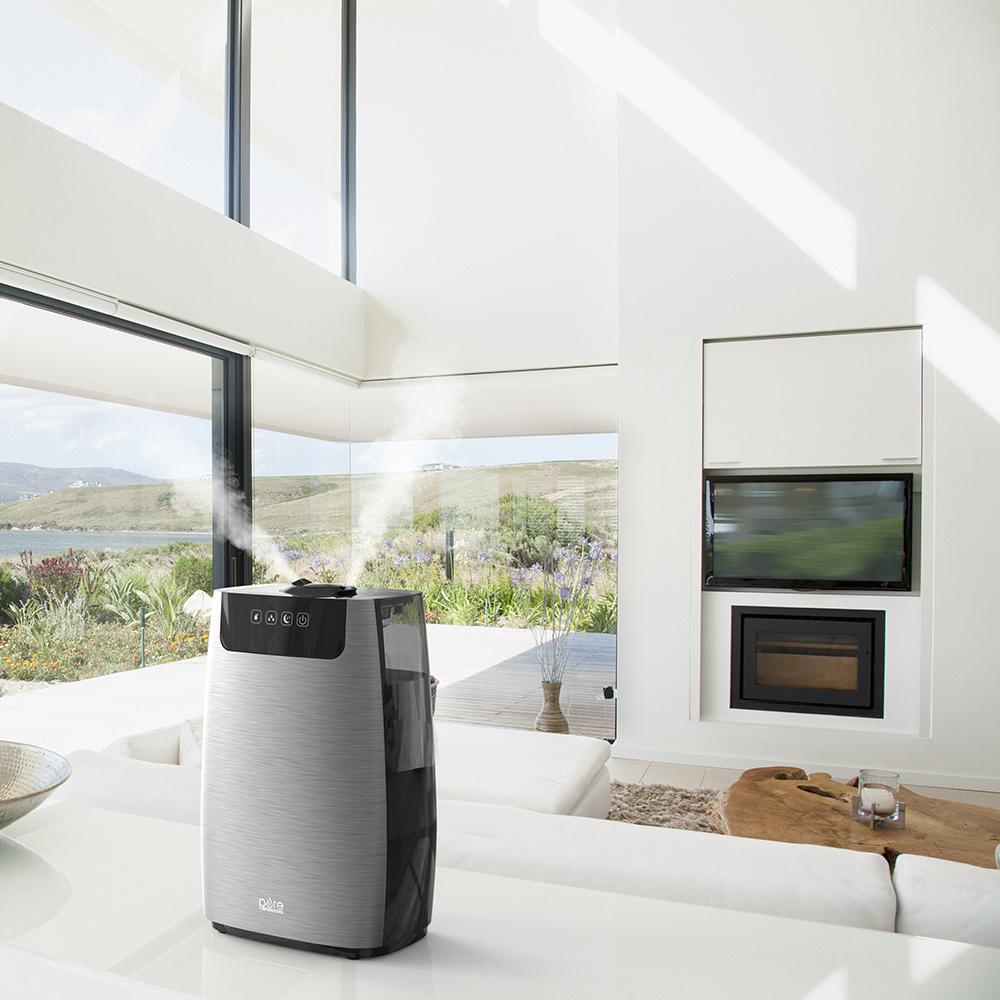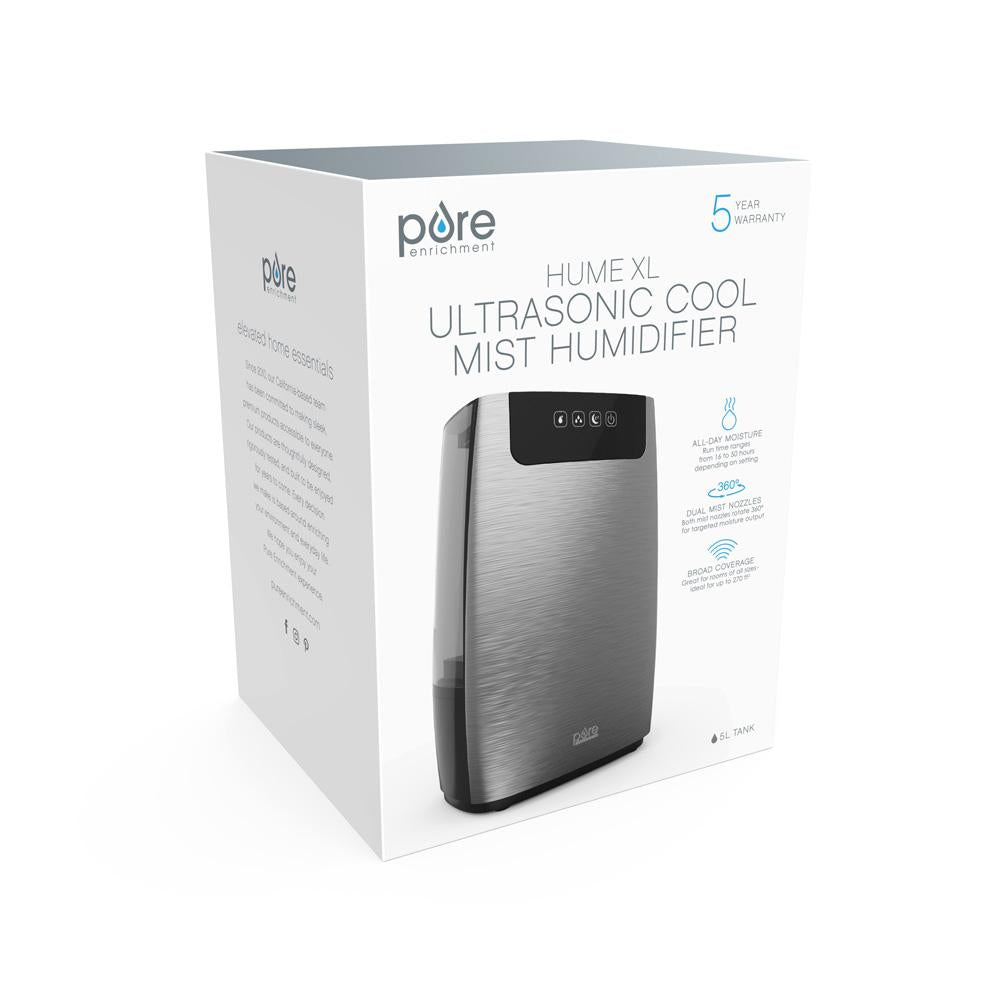 Pure Enrichment®
HUME™ XL Ultrasonic Cool Mist Humidifier
<! –– Bazaarvoice Shopify Integration Version 2.2 ––>
Balance the air quality in the dry spaces in your home or office with the HumeXL Ultrasonic Cool Mist Humidifier from Pure Enrichment. This sleek and modern humidifier is designed with an attractive brushed metal finish that makes it both easy to clean and resistant to scale and fingerprints. The extra-large water tank allows for hours of continuous operation on any setting, providing moisturizing relief for the symptoms associated with dry air. Direct the independent, 360-degree rotating mist nozzles in opposite directions for diverse room coverage or point both in the same direction for more powerful steam output.
The optional night light creates a soft, beautiful glow at the base of the humidifier adding a relaxing ambiance to any room. Press the night mode icon to dim the LED control panel lights and to turn off the night light while you sleep. The HumeXL features an automatic shut-off safety feature that automatically turns off the humidifier when the water level is low or the water tank is removed from the base.
HumeXL is backed by Pure Enrichment's industry-leading 5-Year Warranty so your satisfaction is 100% guaranteed.
FREE SHIPPING ON ORDERS OVER $50!
really happy with this!
Really happy with this! I'm already getting better night of sleep because my nose and throat aren't dry any more. It is extremely quiet (I don't even realize that it is on), love the night mode. Definitely 5 out of 5 stars. It does go through lots of water quickly, but I guess that's how it keeps the air so nicely humidified. Very much satisfied with this humidifier.
- MK
super quiet, very easy to refill...
Awesome buy. Super quiet, very easy to refill, I absolutely love the dual directional spouts, and it is very easy to operate. I should have bought 2 of them!
- Brian E J.
we sleep better...
Best humidifier we've tried yet. The others we found at Walmart and Target for ~$30-$70 and both broke within days. This one has been working well for a couple weeks and it's the first one that actually feels like it's working. We sleep better, wake up feeling better, and we love the sleek design and ease of use. Great product.
- Danielle
highly satisfied.
Great purchase with a lot of humidity added to our master bedroom. Great looking appliance as well. Highly satisfied.
- Cleve
...easy to use...
The humidifier works very well as expected. The machine is totally silent which is a plus. It is easy to use and no filters to replace, unlike others I have used in the past.
- Joseph S.
Product Features
Product Features
Whisper-Quiet Operation
Integrated body design suppresses noise for silent operation that's ideal for a bedroom, nursery or office.
High & Low Mist Settings
Adjust the mist output to achieve the desired level of humidity in your home or office - up to 300ml/hr on high; up to 100ml/hr on low.
Certified Safe
The ETL Mark is proof of this product's compliance with North American safety standards.
Year Warranty
Backed by Pure Enrichment's industry-leading, hassle-free 5-Year Warranty so your satisfaction is 100% guaranteed.
Product Specifications
Dimensions & Weight
8.9"x 5.9" X 14.4" / 5.3 lbs
Power
110-120V, 50/60Hz, 27W
Model No. / UPC
PEHUMEXL / 817387020176
What's in the Box
Humidifier Base, 5-Liter Water Tank, Water Tank Cap, User Manual
Coverage Area
Up to 270 sq. ft
Run Time
Up to 16 hrs on high; Up to 50 hrs on low
Water Tank Capacity
5 Liters (1.3 Gallons)
<! –– Bazaarvoice Shopify Integration Version 2.2 ––>