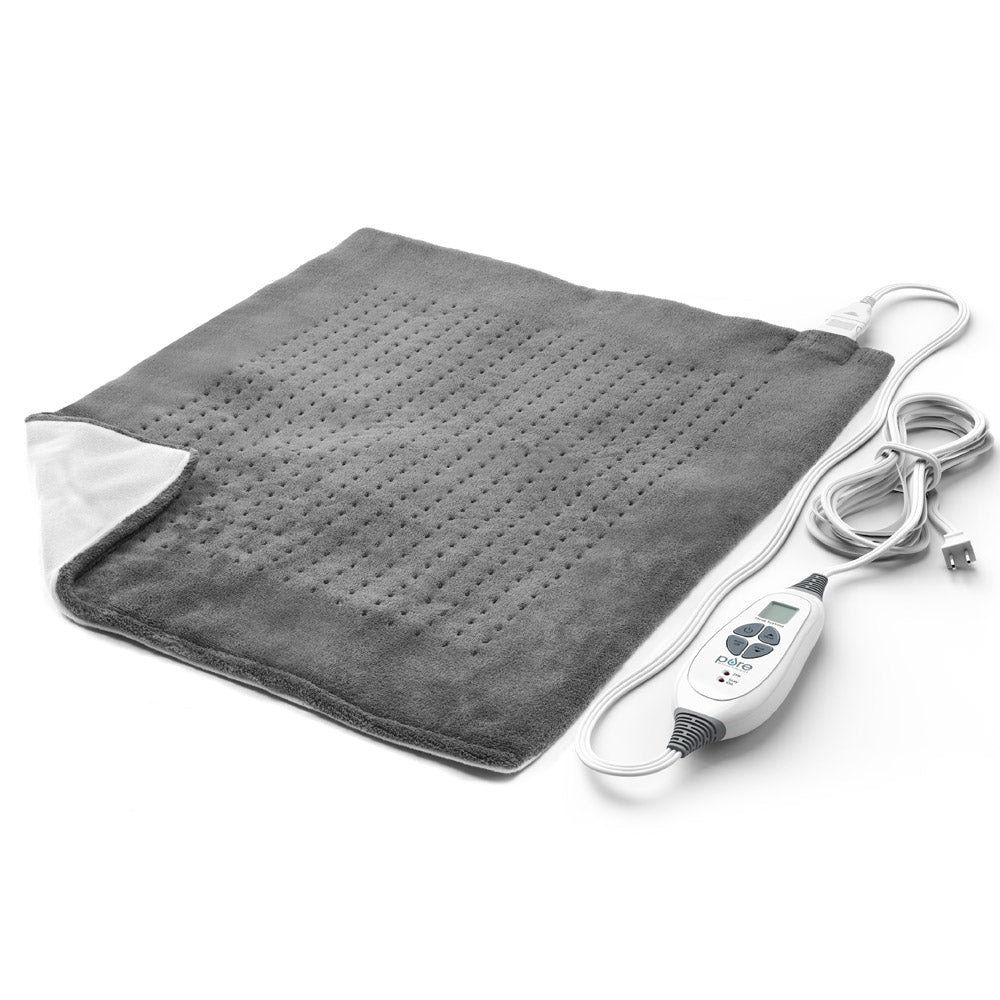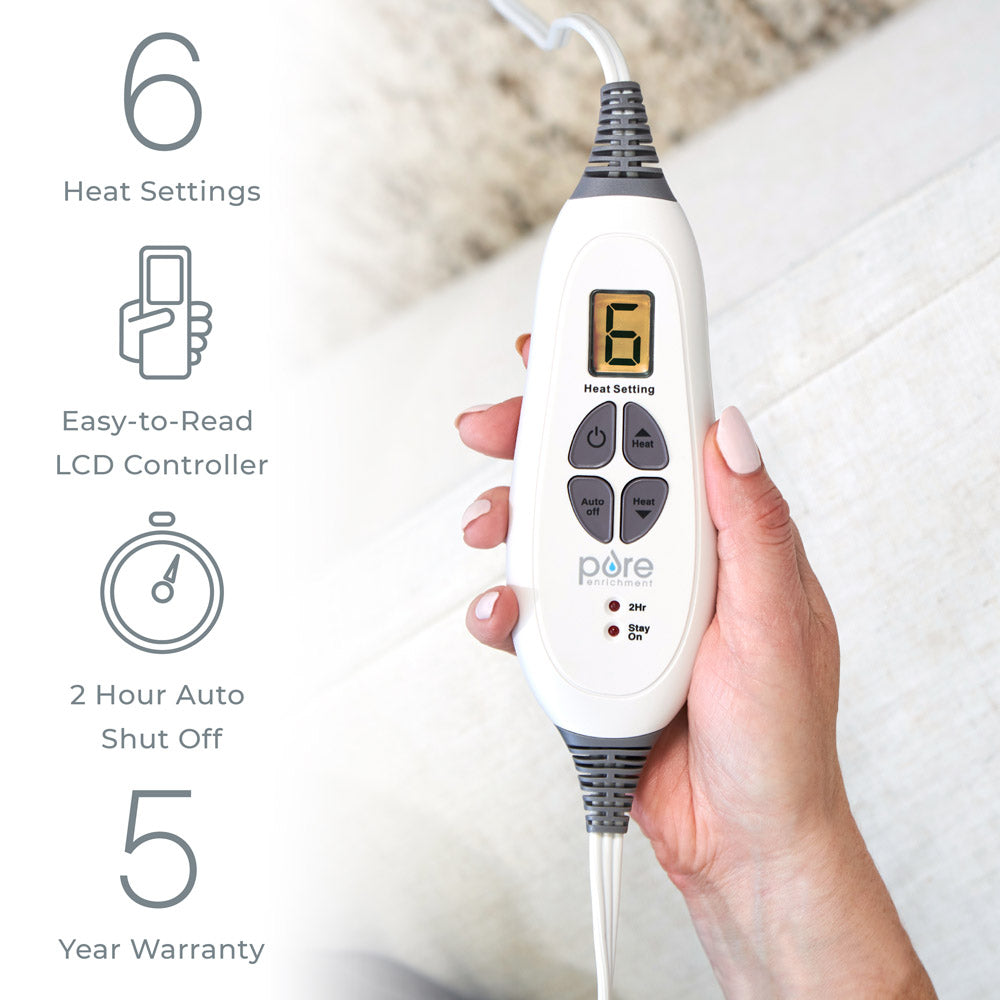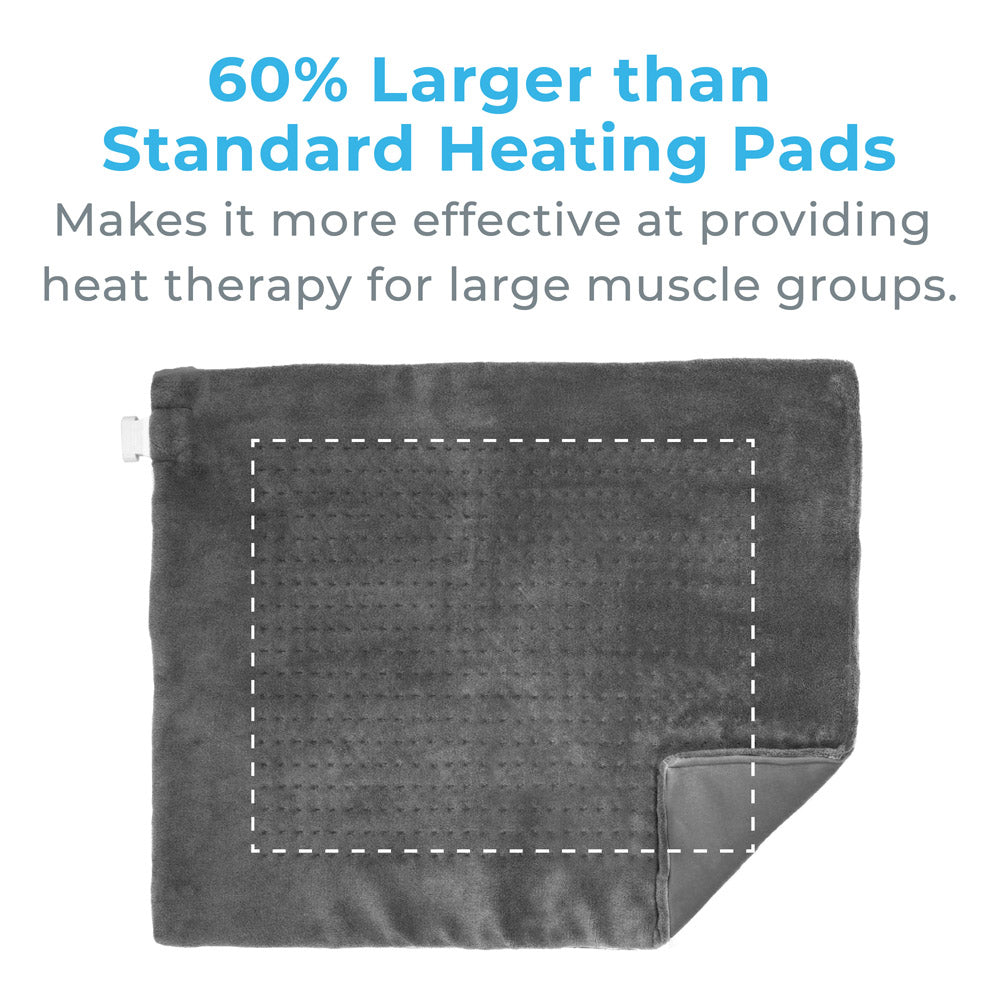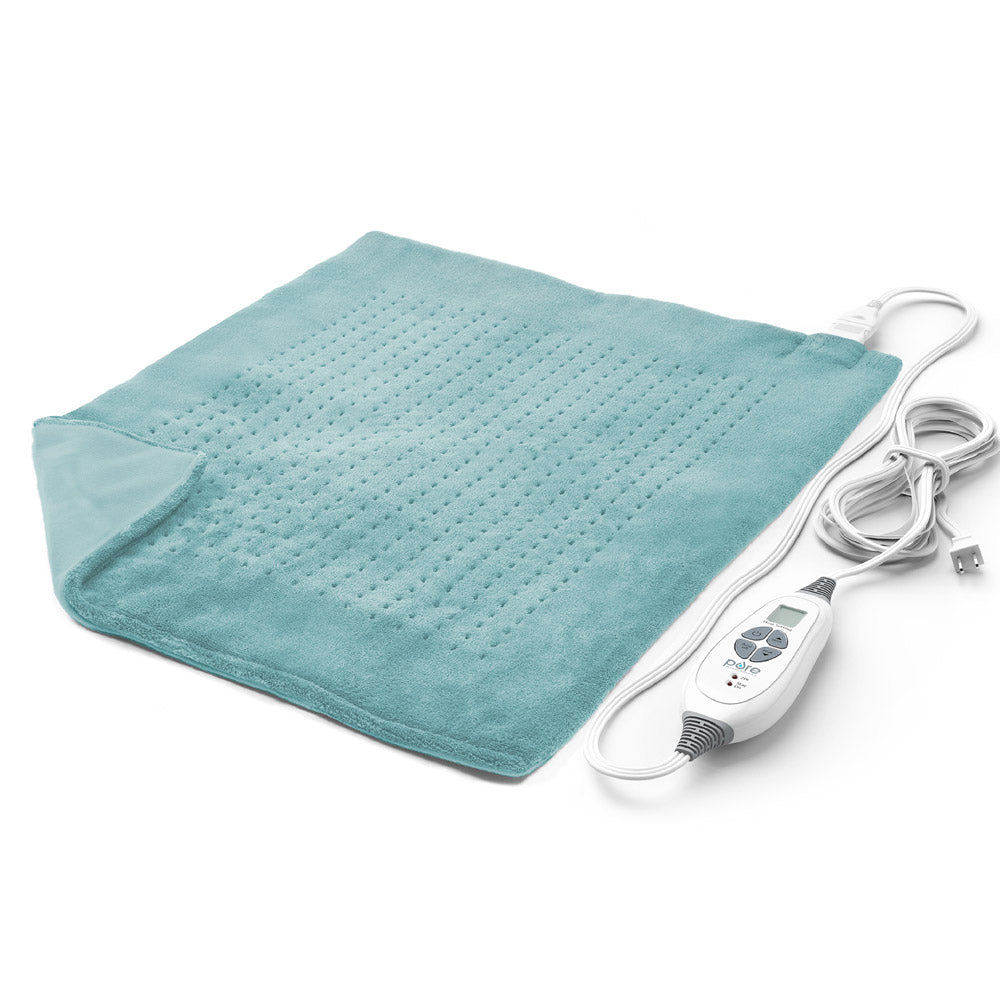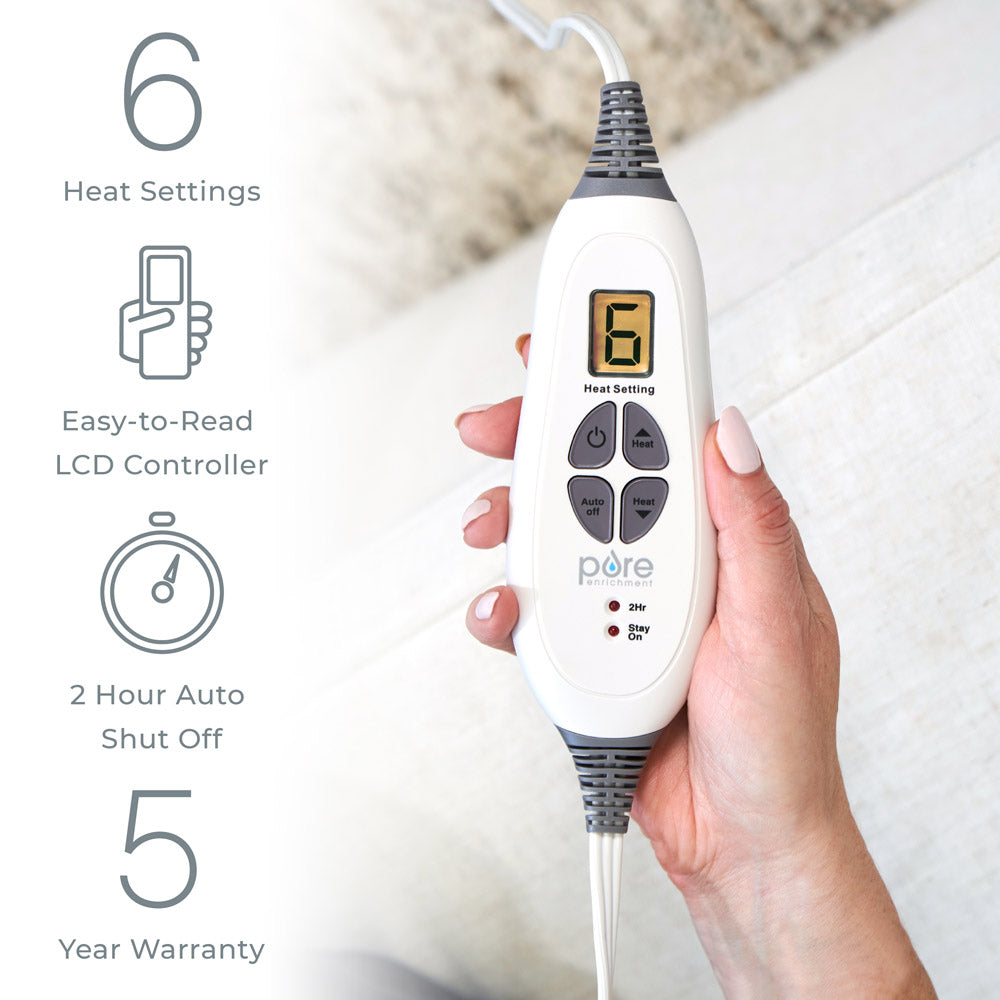 Pure Enrichment®
PureRelief™ XXL Ultra-Wide Microplush Heating Pad
<! –– Bazaarvoice Shopify Integration Version 2.2 ––>
Relax and unwind with the PureRelief™ XXL Heating Pad from Pure Enrichment®. This electric pad provides a natural alternative to pain relief with therapeutic heat. Easily and temporarily treat life's common discomforts, like cramps, backaches, sore muscles, joint pain, stiffness, muscle spasms, and even chronic pain associated with arthritis with this soft and durable pad. Choose from 6 fast heating temperatures providing comfort to your lap, back, chest, or shoulders. Help reduce stress, soothe restlessness, and enhance relaxation in any setting with this pad at home, school, or work.
ULTRA-WIDE HEATING PAD: 20" x 24" size provides maximum coverage for your back, shoulders, legs, abdomen, and more muscles to relieve aches, stiffness, and joint pain. It's a natural, drug-free way to temporarily relieve ongoing pain.
WARMS UP INSTANTLY: Feel the heat within se

conds with InstaHeat Technology. Use the ergonomic LCD controller to choose from

6 heat settings ranging from 105-140℉. The automatic shut-off timer prevents the pad from overheating after 120 minutes to conserve energy and provide worry-free use.

DRY OR MOIST HEAT THERAPY: This ultra-wide heating pad can be used for dry heat therapy or moist heat therapy. For moist heat, simply dampen the pad with a spray bottle

for deeper heat penetration as you relax.

SOFT FABRIC & EXTRA-LONG CORD: Gentle, machine-washable microplush fabric feels soft and comforting on bare skin and offers maximum comfort for daily use. The 9-foot cord allows you to adjust positions and pad placement with ease while relaxing on your bed, couch, or office chair.
5-YEAR WARRANTY: This electric heating pad comes with a detachable LCD controller, storage bag, and Pure Enrichment's guaranteed 5-Year Warranty. Our customer support team provides quality service and peace of mind to millions worldwide all from a brand you can trust.
FREE SHIPPING ON ORDERS OVER $50!
...the most amazing heating pad...
This is the most amazing heating pad I have ever owned. It is very soft to the touch and not made out of stiff plastic like cheaper heating pads. It is large and with a long cord. This heating pad gets HOT. I am the type of person that could never have a heating pad get hot enough for me. This one does and I have to keep it around 4. You can start to feel heat in it within a minute. The heat is also uniform so it's not like 1 hot spot near the plug when you turn it on. I would definitely buy this brand again and recommend. Don't waste your time and money on other brands. Well worth the investment.
- Jennifer
...it has been a great investment.
It's been a while since I bought this and I have to say, it has been a great investment. I've been suffering from a labral tear of my left hip and in the meantime it's been providing some pain relief and comfort. I use the heating pad to heat my lower leg and wrap it frequently on my left hip. The settings from 1-6 are great cause I'm in control. I have the option of leaving it on and setting the 2 hour timer. It's perfect for any setting. With the long outlet cord, I can set it while laying on the sofa and on my bed. It also feels great! It's soft and has that microfiber feeling. Thank you for making a great quality product that I can trust and use frequently.
- Vibeone2002
I love this so much.
I love this so much. It's huge so it fits literally my whole back which is perfect because my entire back hurts so much. There are 6 temperature levels, but even the highest isn't hot enough to hurt someone. You can set it to turn off after 2 hours or leave it on with no auto shut off. I'm so happy with this purchase and my back muscles are happy with the warmth and relaxation.
- Melissa
..a miracle in a drawstring bag.
All I can say about this product is that it is a miracle in a drawstring bag. I opened it up, set it on 6 (maximum) and the rest is history. So in conclusion, if you are dissuaded from this product solely on the price alone, I'm here to inform you that this product is 100% worth every single penny.
- Kimberly M.
I'm very happy with this product.
I was originally looking for a microwavable moist hearting pad when I came across this one in my search. I wanted a larger size heating pad so I could just leave the pad in one place to cover a large area of my back and this one fit the bill. The features that I like best are that there are 6 heat settings, and the highest does get really warm. A definite plus. I also like that you can just spray water on the pad to use for moist heat therapy. The auto shut off/on is a nice feature as well, although I don't use it too much as I generally only use it for a half hour or so. I'm very happy with this product.
- J. J.
Product Features
Product Features
InstaHeat™ Technology
Enjoy a rapidly heating pad featuring 6 heat settings. Choose the level of warmth that works best for you with settings that range from 105℉ to 140℉.
Easy-To-Read LCD Controller
The clear LCD controller with backlit display makes adjusting the heat to accommodate your comfort level easy.
Super Soft Microplush Fabric
Gentle, machine-washable fabric feels soft and comforting on bare skin and offers maximum comfort for daily use.
Year Warranty
Backed by Pure Enrichment's industry-leading, hassle-free 5-Year Warranty so your satisfaction is 100% guaranteed.
Product Specifications
Material
Microplush (Top), Polyester (Bottom)
Heat Setting and Temperature
Warm: 105℉
Low: 112℉
Medium Low: 119℉
Medium: 126℉
Medium High: 133℉
High: 140℉
Auto Shut-Off Timer
2 hours
Model / UPC
PEHPWIDE / 817387020206
PEHPWIDE-SG / 817387022187
What's in the Box
Heating pad, detachable LCD controller, storage bag, user manual
<! –– Bazaarvoice Shopify Integration Version 2.2 ––>